CON MAN
Hoping to see Jim in person in 2016?  A number of convention appearances are starting to trickle in. We'll let you know when additional events are added!
Superstars Writing Academy
February 4th – 6th, 2016
Colorado Springs, CO
http://superstarswriting.com/
Houston Comicpalooza 2016
June 17-19, 2016
Houston, TX
http://www.comicpalooza.com/
Myths and Legends Con
August 12-14, 2016
Ramada Plaza Denver North
Denver, CO
http://www.malcondenver.com/
WIZARDS GONE WILD
Also, we have cover art and a release date for the first issue of Wild Card, the next Dresden Files graphic novel!  Look for it at your favorite comics shop on April 20th, 2016!  Click to embiggen.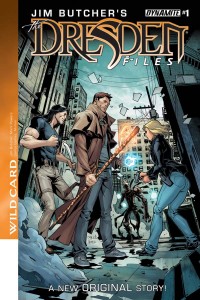 As always, you can see the full list of Jim's upcoming events at Calendar Event Discussion section of the forum and a schedule of new releases at his Upcoming Works page.
–Priscilla