Gluttonous Geek: The Red King's Cochinita Pibil
From The Gluttonous Geek. Serves 4.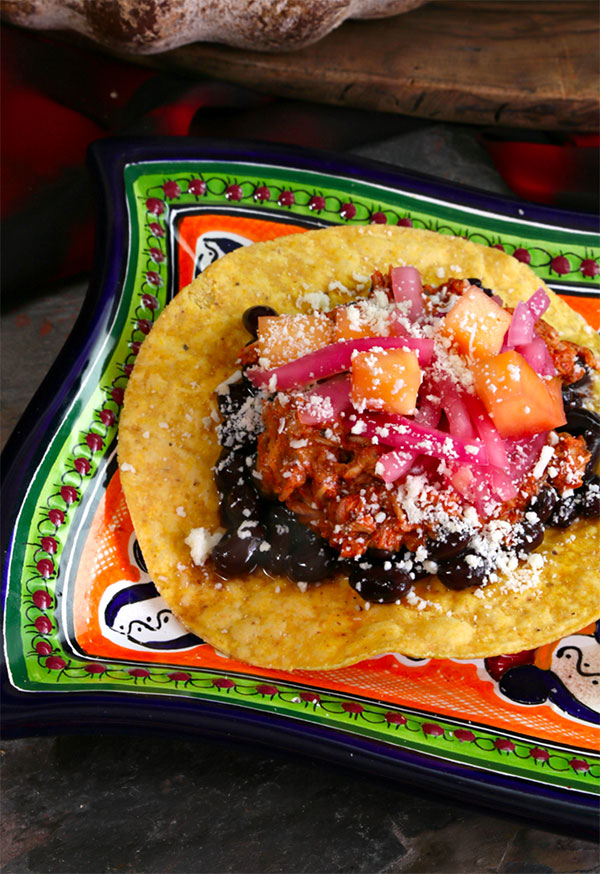 Equipment
Oven, blender, gallon-size ziplock bag, refrigerator, parchment paper or 4-6 banana leaves, cast iron dutch oven, colander, mixing bowl, slotted spoon, ladle, and two forks.
Ingredients
Pork:
3.5 to 4lbs pork shoulder or butt, trimmed of excess fat and cut into 1″ chunks
1/2 cup lime juice (4 limes)
1 cup orange juice (2 oranges) 1/2 cup mango nectar
1/3 cup apple cider vinegar
2 Tb dried oregano
2 bay leaves
3.5 oz achiote paste
Salsa:
1 large red onion, thinly sliced
1 mango, diced
1/2 cup mango nectar kosher salt
Instructions
THE NIGHT BEFORE:
1. Pulverize the lime juice, orange juice, oregano, bay leaves, 1/2 cup of mango nectar, and the achiote paste in the blender until smooth. Transfer the cubed pork into the ziplock bag and pour the marinade over. Seal the bag and refrigerate overnight.
AT LEAST FOUR HOURS BEFORE SERVING:
2. Preheat the oven to 250°F.
3. Line your dutch oven with parchment paper or banana leaves and pour the contents of the ziplock bag inside. Cover the meat with more parchment paper or banana leaves, then top with the lid.
4. Place the dutch oven on the middle rack of your oven and bake for 30 minutes.
5. Lower the heat to 200°F and roast another three and a half hours.
AT LEAST AN HOUR BEFORE THE PORK FINISHES:
6. Toss the mango and onion in a mixing bowl and pour two cups of boiling water on top. Let soak three minutes, then drain. Stir in the remaining apple cider vinegar and mango nectar, and a few pinches of kosher salt. Let sit at room temperature until serving.
7. When the pork is finished cooking, remove it from the oven. Transfer the meat with a slotted spoon to large baking or serving dish.
8. Shred the meat with two forks. Then stir in the cooking liquid, one ladleful at a time, to soak in until at the desired color and consistency.
9. Serve the pork while warm with salsa, tostadas or tortillas, and whatever toppings you choose.