Ernst Dabel has given us permission to share some of the artwork from issue #1 of the Dresden Files comic. This is page 4–minus the text, of course.
Huge thanks to the Dabel Brothers for this exclusive sneak preview! Click the image to view it full-size.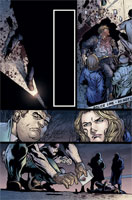 Discuss this page on the forum here.