Great news! The Dabel Brothers' first official Dresden Files poster was so successful that we've just released a new one! This print features a thrilling scene from the first Dresden novel, STORM FRONT, wherein Harry Dresden squares off with Bianca, a seductive bordello madam whose beauty, it would seem, is only skin deep.
Who needs stakes? A resourceful wizard has less conspicuous tricks up his sleeve to defend against a Red Court vampire.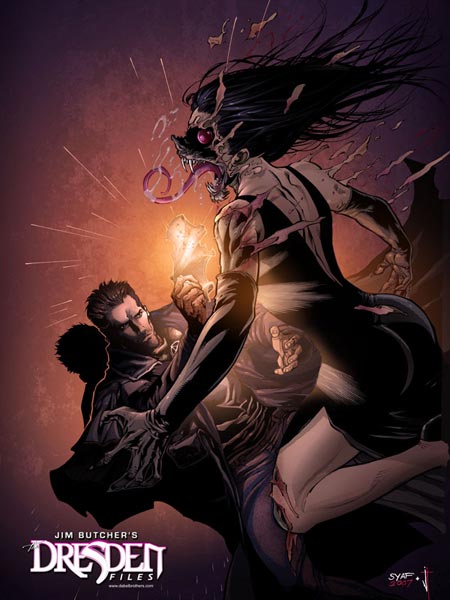 But, the good news gets even better: we just made a deal that's going to allow us to bring you this poster for just $9.99, plus shipping and handling. But we're not skimping on the quality; like the previous poster, this is printed on a thick piece of glossy paper that will look great on your wall or in your cubicle, and it's even suitable for framing!
So, head on over to DabelBrothers.com and place your order now — we only have 500 of these available, so act quickly!
Discuss this topic at the forum here!