The trade edition of Welcome to the Jungle is here! Find it at your favourite bookstore or comics shop today!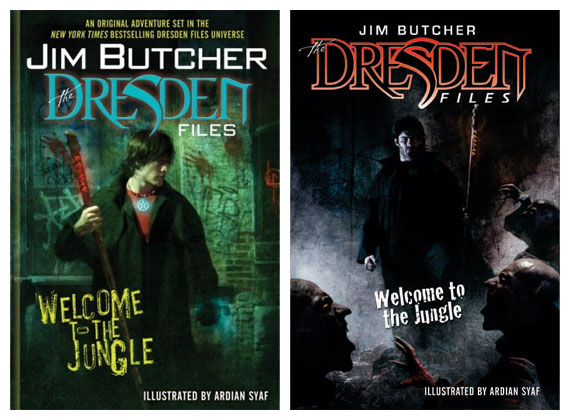 The trade compile all four issues of the Storm Front prequel, written by Jim Butcher and pencilled by Ardian Syaf. It's available in two editions: The first (above, left), released through Del Rey, will be available at your local bookstores and comics stores, as well as online retailers like Amazon. The second (above, right), released through Diamond, will only be available in comics shops. It's the Dabels' gesture of thanks to comics shops for helping to make the series such a rousing success!
Check out a review from Fantasy Book Critic, then enter his WttJ Giveaway!
Purchase your copy from the Jim-Butcher.com store, or find comics shops near you with Diamond's Comic Store Locator tool. Discuss this news post on the forum here!
In other news, an important announcement from Subterranean Press:
We've now received enough orders that the first printing of Backup is sold out. If you want to be assured a copy, you need to order one before we finish shipping wholesale and online bookstore orders. We don't know yet if a second printing will be authorized.
Order from the Jim-Butcher.com store via Amazon or directly from Subterranean Press.