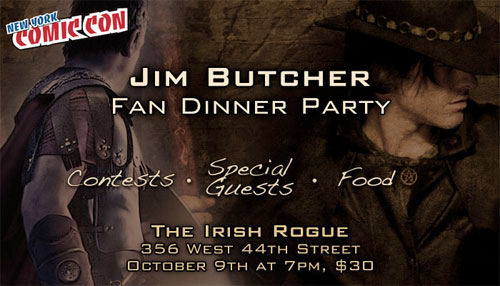 The FINAL THREE TICKETS to the Jim Butcher Fan Dinner at NYCC are now up for auction! The auctions end September 25th at 11pm Eastern.
Ticket #1/3 – Ticket #2/3 – Ticket #3/3
Proceeds from this auction will go towards covering any unexpected costs of the event, and all surplus will go to the The Avon Foundation via BooksForBoobs: fighting breast cancer while supporting awesome authors!
Books for Boobs and Project Teddybear have 60 other live auctions right now, which are purely for Avon fundraising–all proceeds from these auctions (after fees and costs) will go to The Avon Walk for Breast Cancer. BooksForBoobs' offerings include autographed books by Pat Rothfuss, Mary Robinette Kowal, Scott Westerfeld, 2010 Campbell-winner Seanan McGuire, and more! Project Teddybear's current batch includes stars of TV Land, Sci-Fi, and the cast of White Collar. Spread the word!
Missed the big info email for the fan dinner? Get all the details here.
Discuss this on the forum here.