Ghost Story is just a few months away, but for many of us the wait's just unbearable. What's a superfan to do?
Read something else, of course. I like my stuff pretty dark; so here's what I'd recommend to fellow Jim fans looking in that direction, both by authors who I fully believe deserve a wider audience.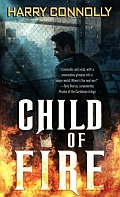 Harry Connolly's Child of Fire: This is dark stuff (Changes dark, and maybe darker still), but so worth it. If you're wondering what Harry's adventures would look like in a more horror-inflected series where magic is an even surer route to pain, this is it. Jim Butcher has said that the writing here tells him he's got to up his game, and you can see why. The plot is propulsive, the twists and turns are sharp, and the hero's got some serious stuff darkening his door. This is part of the "Twenty Palaces" series, followed by Game of Cages and the upcoming Circle of Enemies.
While you're at it, consider checking out Chuck Wendig's collection of short stories, Irregular Creatures. Chuck runs an awesome, bizarre, profane writers'-advice blog over on Terrible Minds (good reading on its own!), and his e-collection of short stories here follows in that vein. He also has an upcoming novel about a vampire who returns to waking in the middle of a zombie apocalypse, Double Dead, which I'm betting will be up your alley as well.
So what are you reading while waiting on Ghost Story? Whose stuff would you recommend? Chime in in the comments, below! (Please avoid spoilers while making your recommendations!)