14 days to book 14!
Ease the wait with Chapter 3 of Cold Days and desktop wallpaper, featuring cover art by Chris McGrath: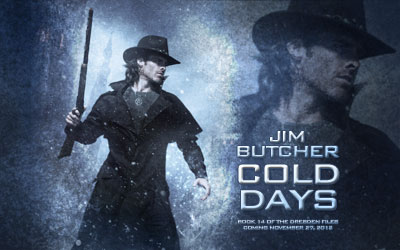 800×600
1024×768
1280×800
1280×1024
1440×900
1600×1200
1920×1200
Do you have a burning question for Jim in these last few days before the book's release? He'll be doing two live Q&A events in the next week. The first will be hosted by BittenByBooks.com on Thursday, November 15th, 8-11pm CST. RSVP for a chance to win a signed copy of Cold Days! The second will be an AMA ("Ask Me Anything") on Reddit's /r/Fantasy section on Tuesday, November 20th. Links will be posted as soon as they're live!
Preorder Cold Days from your local independent bookstore or through our web store, or get an autographed copy from Dog Eared Books' virtual signing.