We neglected to note last Wednesday's release of issue #2 of Ghoul, Goblin, an original comic series set in the official Dresden Files continuity!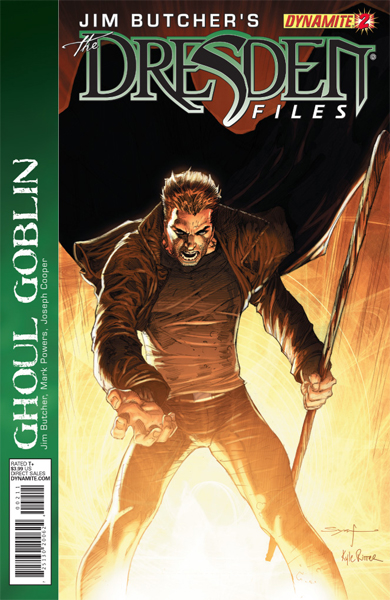 Still reeling from the events of Fool Moon, Harry's been hired by a small-town Deputy Sheriff to look into a series of bizarre deaths linked to a singularly unfortunate family named the Talbots. Far from his usual Windy City stomping grounds, Mr. Dresden has nevertheless found some very familiar obstacles — hostile law enforcement officials, reluctant civilians, and people protecting secrets. Oh, and at least one supernatural threat that isn't about to go down without a fight — or at all.

DOWNLOAD GHOUL GOBLIN #2 NOW AT COMIXOLOGY OR GO TO YOUR LOCAL COMICS SHOP TODAY!
You can also check out a four-page preview of issue 2! Issue 3 hits stores on 3/13.
Also, Jim has announced the titles of two upcoming books! His next novel will be the first in a new Steampunk series, The Cinder Spires, called The Aeronaut's Windlass. After that will be book #15 of The Dresden Files, Skin Game. We don't have release dates yet for either, but we'll let you know as soon as we do!