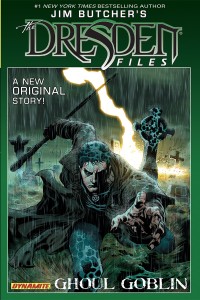 We are pleased to present you with an extended preview of The Dresden Files: Ghoul Goblin, here now with the first 13 story and art pages!
This all new original story takes place in the official continuity of the Dresden Files novels, subsequent to the events in Fool Moon, and is co-written by Jim Butcher and Mark Powers, with art by Joe Cooper.
In Ghoul Goblin, Harry heads to a small, isolated Missouri town terrorized by monsters out of the Nevernever. The singularly unfortunate Talbot family has suffered a curse that has decimated their number for generations, and only our hero can save them… that is, if he can survive hostile lawmen, the dark secrets of townsfolk, an ancient guardian spirit, and two deadly carnivores! Can Dresden cleanse the Talbot bloodline of its curse without a blood sacrifice of his own?
This 152-page hardcover graphic novel will be in stores everywhere Nov 26th.
Jim encourages you to go and order it from your favorite bookstore!
ISBN-13: 978-1-60690-438-1
Diamond code: OCT131064
Here's your preview! (Click each page for a larger image)