WAR CRY JACKET ART
War Cry is coming, and we've got the jacket art to prove it! Order a copy from your favorite local comics shop or comic-friendly independent bookstore, or preorder a copy from Amazon or B&N from our store! It will be released November 11th.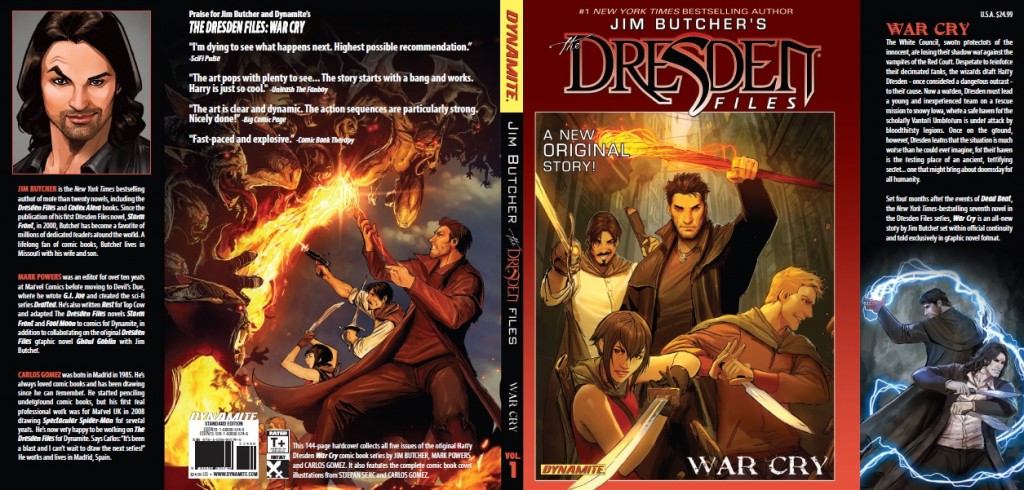 This 144-page hardcover collects all five issues of the original Harry Dresden War Cry comic book series by Jim Butcher, Mark Powers, and Carlos Gomez. It also features the complete comic book cover illustrations from Stjepan Sejic and Carlos Gomez!
BIGFOOT FOUND
Curious about the reference to Harry's client River Shoulders in Skin Game? Jim's trilogy of Bigfoot short stories is a bonus book in this month's Story Bundle!
How it works:
Pay-what-you like for five books by awesome indy authors, including Kevin J. Anderson, Elizabeth Bear!
Pay at least $14 and get the five bonus titles, including Jim Butcher, P.N. Elrod, Michael A. Stackpole and more!
Read all their books on your tablet, e-reader, laptop, or smartphone, DRM free!
Jim's "Working for Bigfoot" collection unites the three Bigfoot stories published in 2012: "B is for Bigfoot," originally in Under My Hat: Tales from the Cauldron; "I Was a Teenage Bigfoot," originally in Blood Lite 3: Aftertaste, and "Bigfoot on Campus," originally in Hex Appeal. If you don't want to wait another year or so for Brief Cases, sequel to Side Jobs, this is your chance to learn all about the times Harry took a case from one of the few people out there taller than he is.
REMINDER
This summer saw some pretty awesome new swag, so I just wanted to drop a reminder. Badali Jewelry released stunningly gorgeous, officially licensed Dresden-inspired pieces, including Harry's pentacle, Harry's shield bracelet, and a Bob the Skull pendant, available in "good" and "evil" varieties.
Also, Penguin heard the fan demand and has republished Storm Front in hardcover! If you're as fastidious as we are about your books being a uniform size, or you're as hard as Harry is on paperbacks, or you're a completist, you'll want to snatch up a copy! If Penguin feels there's sufficient fan interest, they'll re-release other Dresden books in hardcover, so if that's you, vote with your dollars!