Happy 4th of July to those who celebrate it! We have two super nifty things to announce today.
"BEYOND WORDS" 2016 FANTASY AUTHOR CALENDAR
Lauren Zurchin, creator of last year's stunning Beyond Words fantasy calendar, is creating another calendar for 2016, and she needs fans' help to get it funded! This will be an all-new photography series of best-selling fantasy authors in custom costumes and unique locations, turned into a 2016 12-month calendar, and Jim will be among them!
This year's authors are:
Leigh Bardugo (The Grisha Series)
Jim Butcher (The Harry Dresden Files, The Codex Alera)
Melissa de la Cruz (The Blue Bloods series, Witches of East End)
Tony DiTerlizzi (The Spiderwick Chronicles, The WondLa series)
Kami Garcia (The Beautiful Creatures novels, The Legion Series)
Lev Grossman (The Magicians series)
Robin Hobb (The Liveship Traders Trilogy, The Rain Wild Chronicles)
Tahereh Mafi (The Shatter Me Series)
Garth Nix (The Abhorsen Trilogy, The Keys to the Kingdom Series)
Ransom Riggs (The Miss Peregrine's Peculiar Children Series)
Margaret Stohl (The Beautiful Creatures novels, The Icons Series)
Scott Westerfeld (The Leviathan Trilogy, The Uglies Series)
Pledge to her Kickstarter here! And act quickly: there are only six days remaining in the campaign.
"WAR CRY" ISSUE 2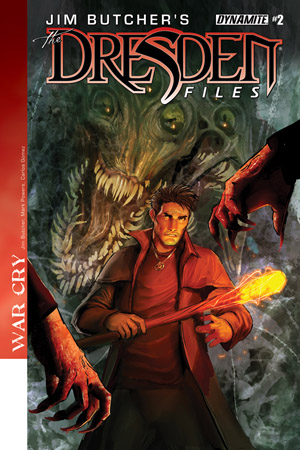 Issue #2 (of 5) of the original graphic novel "War Cry" hit stores Wednesday! Grab a copy from Dynamite.com, Comixology, or at your local comic shop.
"War Cry" is set a few months after Dead Beat and features Harry on a mission with young Wardens Carlos Ramirez, Yukie Yoshimo, and "Wild Bill" Meyers. It's written by Jim Butcher and Mark Powers, with art by Carlos Gomez, published by Dynamite Entertainment. Check out a five-page preview on Dynamite.com!