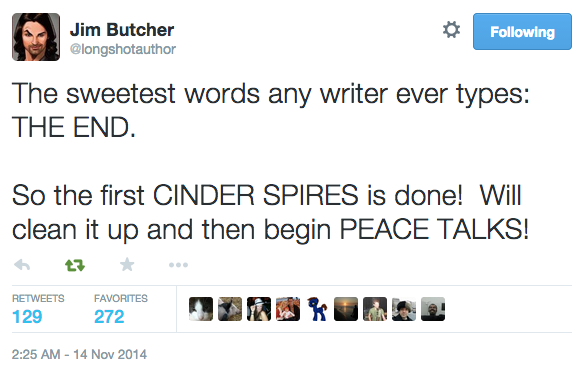 This just in! Jim has finished the first book in the Cinder Spires series, The Aeronaut's Windlass! He'll take some time for polishing and editorial, then he'll start work on Dresden #16, Peace Talks!
We'll let you know as soon as there's a release date to announce. At present, no official date has been set.
In the meantime, don't forget to vote in Round 2 of the Goodreads Choice Awards! Skin Game is one of many exceptional novels in the running for Best Fantasy. This round ends tomorrow, Saturday the 15th, so don't delay! Participants get one vote per category per round, so check out all the nominees in all categories and choose your favorites, then come back Monday the 17th for the Final Round, to see if your picks made the cut!