Lots of news to catch up on!
THE AERONAUT'S WINDLASS
This week, you can read chapter 4 of The Aeronaut's Windlass, our last sample chapter before the book's release next Tuesday, September 29th! Enjoy!
As a reminder, fans around the globe can pre-order a signed copy of The Aeronaut's Windlass or any of Jim's prior works through Dog Eared Books' Virtual Signing! Also, publisher Ace/Roc is giving away eight copies of The Aeronaut's Windlass to lucky fans. Enter here for a chance to win! U.S. residents only.
NEW MERCH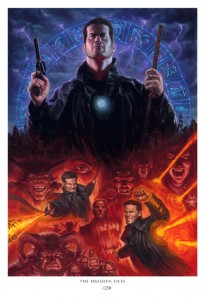 Tyler Walpole, cover artist for the Dresden Files RPG, has unveiled a stunning new illustration of Harry kicking supernatural evil ass! He's selling limited edition, signed (by himself and Jim!), archival-quality prints through his website. Grab one before they're gone!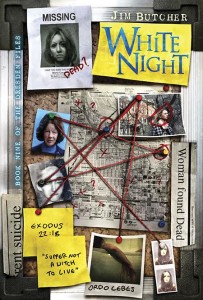 Jim Butcher's newest Subterranean Press limited edition, White Night, is now up for preorder. Like the volumes that preceded it, this deluxe edition includes illustrations by Vincent Chong.
UPCOMING EVENTS
Salt Lake City Comic Con
Thursday, September 24th:
2-3pm: Signing at WordFire Press (Booth 1701)
7-8pm: Shadow Mountain Signing (Booth 1401)
Friday, September 25th:
2-3:30 pm: Signing with Wordfire Press (Booth 1701)
3-3: 50 pm: Fantasy and Heavy Metal (Room 151G); Guests: Jim Butcher, Larry Correia, Peter Orullian—Moderator
5-5:50pm: Writing Fantasy: An inside look at the art of creating the fantastic (Room 250A); Guests: Terry Brooks, Jim Butcher, David Farland, Jessica Day George, James A. Owen, R.A. Salvatore, Shawn Speakman—Moderator
Saturday, September 26th:
12-12:50 pm: Jim Butcher Spotlight Panel (Room 250A)
2-3:30 pm: Signing at Badali Jewelry (Booth number: 1023 — Free ticket required, available at booth #1023)
4-4:50 pm: Urban Fantasy (Room 355); Guests: Terry Brooks, Jim Butcher, Larry Correia, Kevin Hearne, J.R. Johansson, Shawn Speakman—Moderator
6-7 pm: Signing at WordFire Press (Booth 1701)
Signing Tour
September 29, 7:00 PM CT
Rainy Day Books
Unity Temple
707 W. 47th St.
Kansas City, MO 64112
Further Details
September 30, 7:00 PM ET
Joseph-Beth Booksellers
161 Lexington Green Circle
Lexington, KY 40503
Further Details
October 1, 7:00 PM CT
Barnes & Noble
55 Old Orchard Center
Skokie, IL 60077
Further Details
October 2, 7:00 PM PT
Copperfield's
140 Kentucky Street
Petaluma, CA 94952
Further Details
October 3, 7:00 PM PT
University Bookstore
University Temple United Methodist Church
1415 NE 43rd St.
Seattle, WA 98105
Further Details
October 4, 4:30 PM CT
Murder By the Book
2342 Bissonnet St.
Houston, TX 77005
Further Details
October 5, 6:00 PM PT
Mysterious Galaxy
5943 Balboa St.
Ste 100
San Diego, CA 92111
Further Details
October 6, 7:00 PM MT
Barnes & Noble
960 S. Colorado Blvd.
Glendale, CO 80246
Further Details
FROST FOLLOW-UP
Thank you so much for your outpouring of well-wishes and sympathy after the passing of Jim's ferocious Bichon Frisé guard dog, Frost. We're so grateful for your continued support of Missouri Pit Bull Rescue, Jim's favorite charity! With your help, they'll be able to do a lot of good for these misunderstood dogs and the families who love them.