We're back from DragonCon, and we have all kinds of Butchery goodness to report!
SIDE JOBS SALE!
First off, there's a massive sale on Side Jobs going on now! For a limited time, fans can nab the Ebook of the first anthology of Dresden Files shorts for $1.99! Download it from the vendor of your choice (Amazon, B&N, Books A Million, Google Play, iBooks, or Kobo) via Penguin Random House. This sale ends September 17th, so don't miss out!
COMICS WIN BIG AT DRAGON CON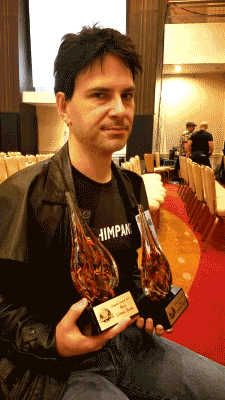 To our surprise and delight (and slight confusion), Jim and his collaborators at Dynamite Entertainment took home two Dragon Awards: Best Graphic Novel for "Wild Card" and Best Comic Book for "Dog Men." No, we're not certain what the difference between the categories is either, but we're nevertheless grateful for your support! Jim had a signing at the same time as the ceremony and was unable to attend, but he sent his friend Landon Solomon, Dresden cosplayer and lead actor in the Dresden Files fan films Night Light and Red Sun, to accept the awards on his behalf. We hope DragonCon's AV setup can recover from the proximity to Harry's Murphyonic field! Watch the video here.
Congratulations to the entire Dynamite team, including Jim's fellow writer Mark Powers, artists Carlos Gomez and Diego Galindo, colorist Mohan, letterer Bill Tortolini, editor Anthony Marques, and Thematic Consultants Pamela Shaw Alexander, Mickey Finn, Fred Hicks, and Priscilla Spencer.
PANEL VIDEOS
Disappointed you didn't get to attend Jim's panels? We have the next best thing. Check 'em out!
And finally…
BONUS HAMILTON COSPLAY EPICNESS
Aaron Burr: Torre Neal
Thomas Jefferson: Wayne Adams
Maria Reynolds: Alie Holden
Peggy Schuyler: Shauna Lloyd
Angelica Schuyler Church: Priscilla Spencer
Eliza Schuyler Hamilton: Kitty Krell
Alexander Hamilton (in green): Jim Butcher
Alexander Hamilton (in black): James Butcher
King George: Suzanne Solomon
Photographs by Torre Neal. Costumes by Kitty Krell, with the exception of Wayne's, Suzy's, James', and Shauna's bodice.
And that's it for this year!  Hope to see you later this month at Jim's final con of 2017, Salt Lake City Comic Con!