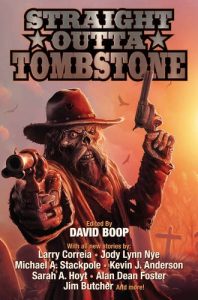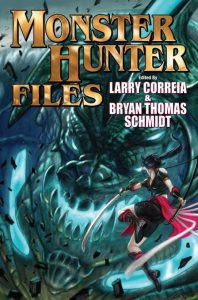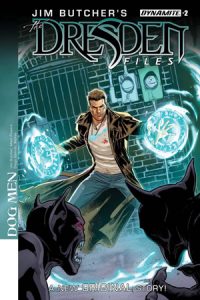 BRIEF CASES
Great news! Jim has finished writing his final story for Brief Cases, the second Dresden Files anthology! This anthology collects all of Jim's Dresden Files short stories that aren't in Side Jobs and brings us inside the mind of John Marcone, Anastasia Luccio, Molly Carpenter, Waldo Butters, and even Maggie and Mouse! Fans will be delighted to know that this new story (novella, really) is one of Jim's longest, eclipsed only by "Aftermath" and neck-and-neck with "Bombshells," so there's a lot to look forward to. (Priscilla really likes numbers.)
The story is currently in the hands of the betas, but once Jim sends the manuscript off to Penguin, he'll be able to get back to work on your favorite subject to heck-hound him about, Peace Talks. 😀 Not sure when we'll get a release date for Brief Cases, as Jim's editor Anne Sowards is heading off to Comic Con this week and subsequently has a lot on her plate, but hopefully we'll have something to announce before too long!
TWO NEW STORIES OUT NOW!
In other short story news, there are two shorts you can read RIGHT NOW! On the day America celebrated its independence, editor David Boop celebrated the release of Straight Outta Tombstone, a new anthology featuring "Fistful of Warlocks," a new Luccio story! It also includes stories from Kevin J Anderson, Phil Foglio, Jody Lynn Nye, Larry Correia, and Maurice Broaddus, so check it out!
The other story is a non-Dresden tale, "Small Problems," written for the Monster Hunter Files anthology. Baen is promoting the anthology by giving away four stories for FREE, including Jim's! Read "Small Problems" and the three other sample stories now, and if you like what you see, preorder the ebook, out October 3rd!
SIGNING
In tangentially-story news, Jim will be doing a signing for the Straight Outta Tombstone anthology Friday, August 18th, at 7pm at the Barnes and Noble at 960 S Colorado Blvd, Glendale, CO 80246.
DOG MEN
Some comics news! Issue 2 of Dog Men came out last week, so be sure to snag a copy from your favorite local independent comics shop. Or hop on Dynamite's website to read a five-page preview and order the digital version! Issue 3 will follow August 9th.
RPG GOODNESS
Finally, y'all know Evil Hat has TWO new Dresden games out, right? Yeah, we thought so.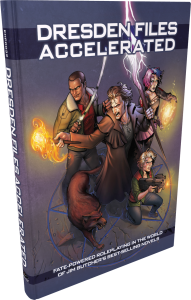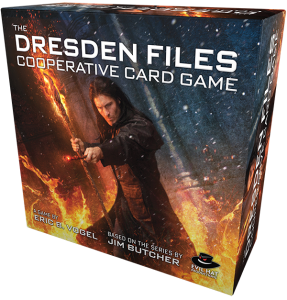 If you haven't yet, you can order Dresden Accelerated and the Dresden Files Cooperative Card Game through Evil Hat's website or pick up a copy at your favorite local gaming store. For those wanting to delve deeper into DFCO (or if your luck with the game so far is at "Harry on a date" level), Evil Hat is also releasing a series of free strategy guides. Happy gaming!