First, the news that everyone can take part in! This Friday at 2:30pm ET, Jim will be doing a Reddit AMA on /r/books. Fans will have the opportunity to submit questions for Jim and vote on which they'd like him to answer. We'll post a link as soon as the page is up.
Next, we have an update on the signing tour! We've learned that while the Q&A portions are free to the public at all venues (except the Alamo Drafthouse screening), all of the signings run by independent bookstores (i.e. not at Barnes and Noble locations) are ticketed, and the B&N locations grant priority line position to customers who purchased the book there. The ticket covers the cost of the book, so the stores don't lose money hosting the event. Get your tickets at the links below, and use the following graphics on social media to let your friends know you're going!
(UPDATE June 9th) PEOPLE LOOKING TO ATTEND THE MCLEAN, VA SIGNING: The graphics we were given below are wrong. The signing is at 4pm and not 7pm. Scroll down to the text version of the appearances below the graphics to get accurate information about the event.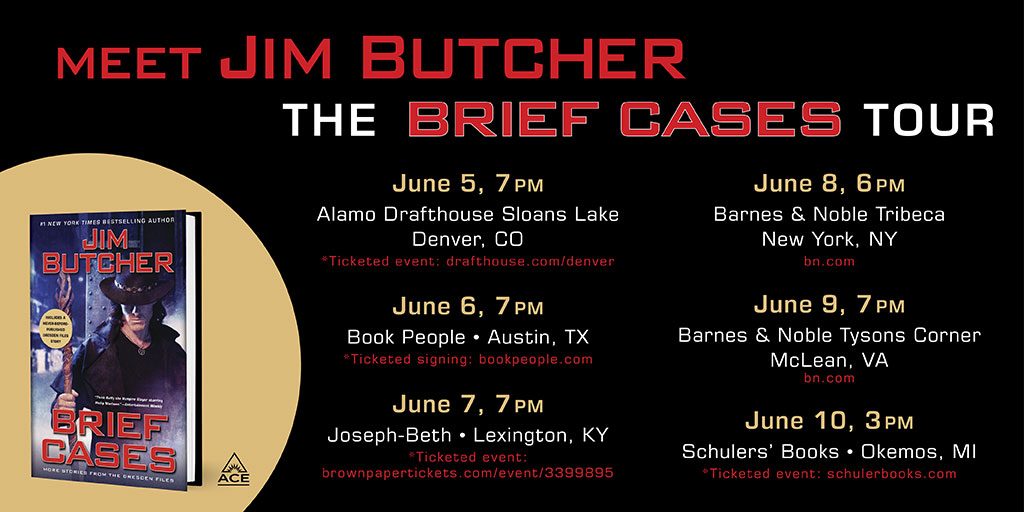 June 5, 7pm
Alamo Drafthouse
4255 W. Colfax Ave.
Denver, CO 80204
Ok, this is cool. Jim doing the usual conversation, Q&A, and signing, but at a MOVIE THEATRE, where they'll be screening BIG TROUBLE IN LITTLE CHINA, one of Jim's favorite flicks. After the movie, there will be a book signing with sales provided by Tattered Cover. Tickets available now! SOLD OUT.
June 6, 7pm
Bookpeople
603 Lamar Blvd.
Austin, TX 78703
The speaking portion of this event is free and open to the public, but tickets are required to join the signing line. Purchasing a book through BookPeople.com automatically assigns you a ticket for the signing–there is no separate "ticket" item to add to your cart. Tickets are lettered. The line for the signing will form according to ticket letter after the author speaks. If you cannot attend the event and would like to order a signed copy of the book, add the book to your cart and put SIGNED COPY in the comments field at checkout. We ship all over the world!
June 7, 7pm
Joseph-Beth Booksellers
161 Lexington Green Circle
Lexington, KY 40503
Tickets available here! Your ticket includes your copy of Brief Cases (at 20% off) and your line letter for the signing. Gives Back Members can receive an additional 10% off the book price by calling 859-273-2911.
June 8, 6pm
Barnes & Noble Tribeca
97 Warren St.
New York, NY 10007
Priority seating with purchase of the book at this B&N location.
June 9, 4pm (CORRECTED TIME)
Barnes & Noble Tyson's Corner Mall
7851 L Tysons Corner Center
McLean, VA 22102
Beginning at 3pm, the venue will distribute wristbands for the signing portion of the event with proof of purchase.
June 10, 3pm
Schuler Books
1982 W. Grand River Ave.
Okemos, MI 48864
Tickets are $32 and include a hardcover copy of Brief Cases, to be claimed at the event. SEATING AT THE EVENT WILL BE FIRST-COME FIRST-SERVED, with the seating area opening at 1pm. We anticipate this event will be a standing-room crowd, so if you require a seat for medical reasons, please contact the bookstore in advance to make arrangements. Mr. Butcher will sign two books. Guests who would like more books signed are welcome to wait until the end of the signing to have multiples signed.
Is Jim not visiting a place near you this time? You can still preorder Brief Cases in hardcover, Kindle, or audio format through our store. Pre-signed copies are available from Books-A-Million and Barnes and Noble. Need more convincing? Check out the book's blurb:
The world of Harry Dresden, Chicago's only professional wizard, is rife with intrigue–and creatures of all supernatural stripes. And you'll make their intimate acquaintance as Harry delves into the dark side of truth, justice, and the American way in this must-have short story collection.

From the Wild West to the bleachers at Wrigley Field, humans, zombies, incubi, and even fey royalty appear; ready to blur the line between friend and foe. In the never-before-published 'Zoo Day,' Harry treads new ground as a dad, while fan-favorite characters Molly Carpenter, his onetime apprentice, White Council Warden Anastasia Luccio, and even Bigfoot stalk through the pages of more classic tales.

With twelve stories in all, Brief Cases offers both longtime fans and first-time readers tantalizing glimpses into Harry's funny, gritty, and unforgettable realm, whetting their appetites for more to come from the wizard with a heart of gold.
Brief Cases hits bookstores everywhere June 5th, 2018.