As we announced earlier this month, every Tuesday in 2020 will feature weekly Drops of never-before-seen artwork, microfiction, interviews, contests, sample chapters for Peace Talks, or other tasty tidbits. Join our new mailing list and follow @jimbutchernews on twitter to ensure you don't miss a moment in our 20th Anniversary celebration! Check the announcement post to catch up on prior Drops.
This week's Dresden Drop: The official series reread has begun with Storm Front! Join us on Goodreads for an epic undertaking as we reread and discuss all 15 published novels, then take on the 16th! The schedule:
#1, Storm Front: 1/13 – 26
#2, Fool Moon: 1/27 – 2/9 (now on sale for $1.99! See below)
#3, Grave Peril: 2/10 – 23
#4, Summer Knight: 2/24 – 3/8
#5, Death Masks: 3/9 – 22
#6, Blood Rites: 3/23 – 4/5
#7, Dead Beat: 4/6 – 19
#8, Proven Guilty: 4/20 – 5/3
#9, White Night: 5/4 – 17
#10, Small Favor: 5/18 – 31
#11, Turn Coat: 6/1 – 14
#12, Changes: 6/15 – 28
#13, Ghost Story: 6/29 – 7/12
#14, Cold Days: 7/13 – 26 (Peace Talks out 7/14th!)
#15, Skin Game: 7/27 – 8/9
#16, Peace Talks: 8/10 – 31
(Note: This schedule may seem counter-intuitive, as Peace Talks comes out just as we're diving into Cold Days. The advantage is that it gives all fans the opportunity to read and digest Peace Talks before diving into group discussion four weeks later–we know not everyone is going to be able to devour the book the week it's out! You'll definitely want to read ahead on your own and make sure you're caught up before reading the new release.)
EDIT: The schedule has been changed in response to reader feedback!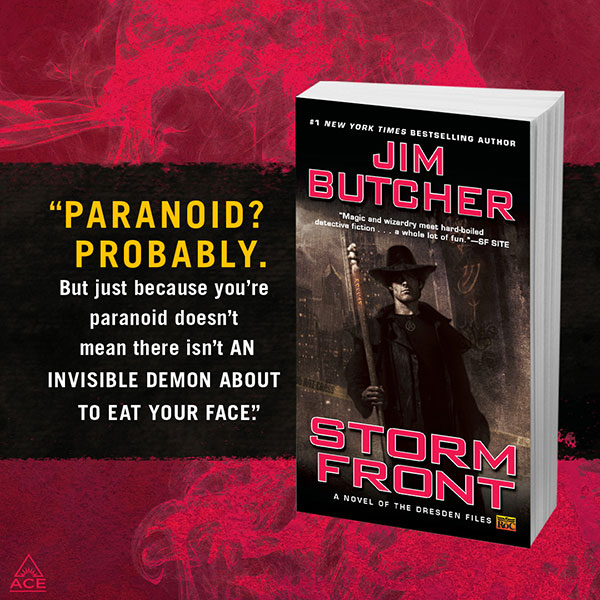 Missing any books in your collection? Snag a copy through the jim-butcher.com store! You can also preorder Peace Talks, due out simultaneously in hardcover, ebook, and audio July 14th.
Bonus: get a jump on the Fool Moon discussion by snagging the ebook for only $1.99! Support independent bookstores by buying through Kobo (here's how to support your favorite local shop!) or Books-A-Million, or order from the following vendors: Amazon, Apple Books, Barnes and Noble, or Google Play. The sale runs through January 26th.
That's it for this week! Check out the Storm Front read-along, then come back next Tuesday for the next Dresden Drop!