Last Thursday, Entertainment Weekly revealed Chris McGrath's cover of Peace Talks and an exclusive excerpt from the book. So while we've got visuals on the brain, we'd love to see YOUR version of Harry's world. For this week's Dresden Drop, we're launching the Official "Year of Dresden" Fanart Contest! 
(What is the Year of Dresden? 2020 is the 20th anniversary of Storm Front, and we're celebrating with weekly "Dresden Drops" of artwork, microfiction, interviews, sample chapters of Peace Talks, contests, and other goodies every Tuesday throughout the year. Catch up in our introductory post, then join our announcement list and follow @jimbutchernews on twitter to ensure you don't miss a beat!)
Contest prizes includes a signed ARC of Peace Talks and poster prints by fan favorite illustrator Mika Kuloda (aka Mika Merrylark aka Mika Blackfield). Submissions are due Thursday, February 13th, and winners will be announced Tuesday, February 18th. Scroll down to the bottom of this post for all the rules!
To get your creative juices flowing, over the span of the contest, we'll be spotlighting some of the fabulous official artists who have contributed their visions of the Dresdenverse to alternate editions and tie-ins. (No need to feel intimidated–the official artists featured in these Spotlights are ineligible for this fanart contest. We want as level a playing field as possible!)
---
Artist Spotlight, Part 1
Fans worldwide know and love Chris McGrath's gritty, iconic style, but he's not the only artist to lend his talents to Dresden covers! Today's three spotlight artists have created covers for "special editions" of Jim's material.
Dan Dos Santos is best known in the Dresdenverse for creating the illustration of Harry riding Sue into battle, originally commissioned for the SFBC omnibus Wizard at Large, and since enshrined on TV Tropes as the definitive representation of the series' Crowning Moments of Awesome.
As far as official art goes, he's also illustrated covers for two other omnibus editions and the short story anthology Naked City (featuring the Dresden story "Curses"). But fans were in for a rare treat when a client commissioned him for another piece, and Dan generously documented his process: Part 1, Part 2, and Part 3. His unused "sketches" are some of the most striking images in the fandom!
You can buy prints of Dan's art through his store.
Mike Mignola, best known as the creator of Hellboy, lent his bold, graphic style to the novella "Backup," our first taste of the Dresdenverse outside Harry's point-of-view. This Subterranean Press limited edition is long since sold out, but copies are easily found through used book resalers.
Vincent Chong has been consistently producing eye-catching covers and dreamlike, evocative illustrations since Subterranean Press began publishing their illustrated special editions of the Dresden novels in 2008. Ghost Story is in preorders now! Check out the full gallery of his Dresden cover work, then enjoy a sampling of his interior art. Inquire about prints here.
---
Fanart Contest Rules
Now that you're all sufficiently inspired, here are the details of the Official Year of Dresden Fanart Contest!
AWARDS
1 Grand Prize: ARC of Peace Talks and 12"x18" print of the Mika Kuloda illustration of their choice, both signed by Jim Butcher
3 Runners-Up: 12"x18" Mika Kuloda art print, signed by Jim Butcher
As Many Honorable Mentions As We See Fit: Eternal Glory and Bragging Rights
Note: We'd love to see entries from all around the globe, but regretfully we can only send physical prizes to residents in the United States.  Therefore, international entries are eligible for Honorable Mentions, but not for the other prize tiers.
HOW TO ENTER
Email the file to yearofdresden@gmail.com. Accepted file types are jpg, png, and gif.  Must be under 30MB.
Please include the name you'd like to be credited as, a link to your portfolio (if you have one), and your country (mostly for the prize tier thing, but also because we're nosy).
Submissions are due February 13th, 2020 at midnight Pacific time. 
Winners will be announced February 18th.
RULES
This contest is open to fans at all skill levels, professional and amateur alike!
Feel free to create in any medium, though keep in mind that this contest is not for cosplay or fan films.  Creators can submit up to 10 works, though each entry will be considered individually.  Sequential art of maximum 8 pages can be considered a single work.
Entries do not have to have been created specifically for this contest—you may submit prior work.
You're welcome to make use of characters, quotes, and other elements from the Dresden Files novels, shorts, comics, RPGs, and other tie-ins, but note that the art itself must be your own original work.  If integrating existing imagery, it must be royalty free and follow the rights holder's terms and conditions for use.  "I found it on Google Images" does not mean "royalty free." 😀  Photomanipulations of official Dresden artwork and stills from the 2007 SciFi TV series are ineligible.
Try to keep entries at or below an "R" rating, in line with the spirit of the books.  Pornographic, abusive, or excessively vulgar entries will be disqualified.
THE FINE PRINT
This contest is all about elevating the incredible artists who make this fandom a vibrant, thriving creative community. To that end, we want to show our admiration by respecting their rights and not taking advantage of free labor. In submitting to this contest, participants give us permission to post their submissions WITH attribution on our website and various social media platforms, but the artwork remains the artists' property.  We make no claim on the art and will not repurpose it for merchandise, media tie-ins, or other use without securing additional permissions from the artist and negotiating additional compensation. Because y'all are awesome and deserve nothing less.
---
Special Bonus For Reading To The End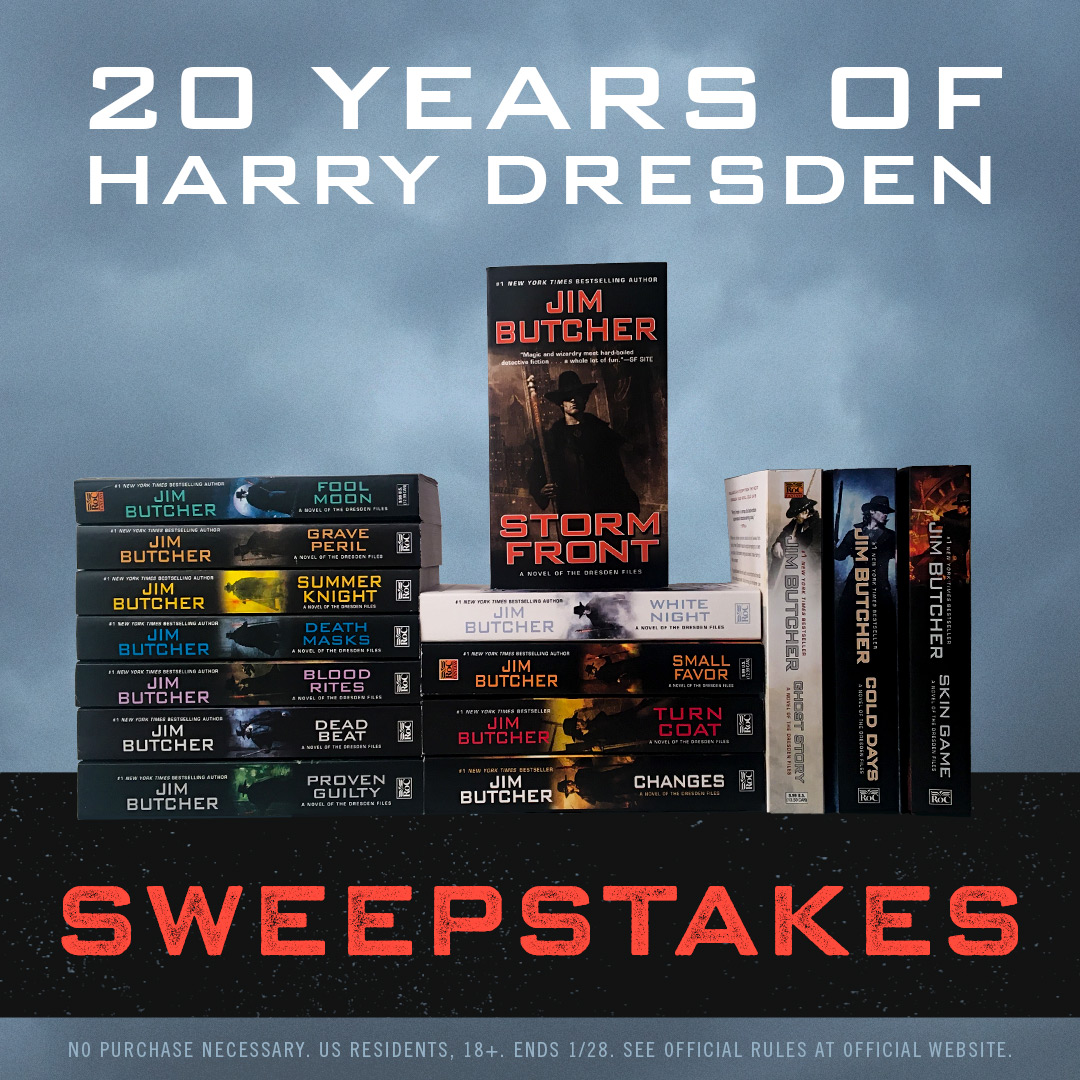 To celebrate the upcoming release of Peace Talks, Penguin Random House is giving away a signed set of every novel in The Dresden Files so far! Enter before January 28th for your chance to win.
That's it for today's Dresden Drop! Don't forget to join our announcement list and follow @jimbutchernews on twitter for more Dresden goodness. See you next week!