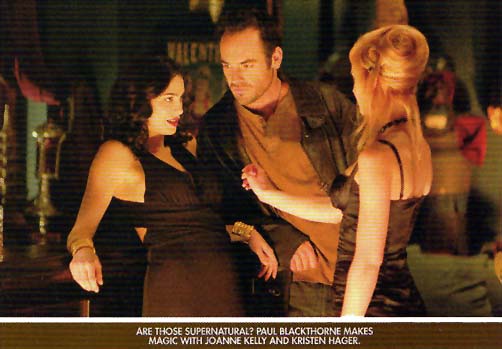 More updates are on their way today, but we'll start by pointing folks to the April 2006 issue of Sci Fi Magazine… Round about page 69 we've got this picture (to the right) and a one-page interview with Mr. Dresden himself, Paul Blackthorne. Well worth checking out. Here are a few highlights:
… It's a quality Blackthorne shares with the character he embodies in his latest role. Harry Dresden may be a practicing wizard — indeed, the only one in the Chicago yellow pages — but he still drives a junk car and struggles to pay the rent.
"He's a regular guy just trying ot have a peaceful life," says Blackthorne. "But he's a wizard, so he's got to deal with certain issues on a day-to-day basis." … "But I get the feeling he would just as soon put up his feet and watch a good movie. … He's not trying to save the world each day. He just has to."
…
Blackthorne's clearly enjoying his first step into the fantastic. "It took me a while to get my head around the idea of slinging spells across the room. But at the end of the day it was a lot of fun." This despite the fact that he also describes it as "the heaviest working schedule I've enjoyed. I think there are 110 scenes, and I'm not in four of them. But given the atmosphere that was created on set, it was never anything but enjoyable, and I was very glad to be on set the whole time."
Grab an issue of the magazine to see the rest!