Our final treat in the run-up to First Lord's Fury is the long-awaited map of Alera, illustrated by our Priscilla Spencer.
Download it as desktop wallpaper in about every desktop size imaginable: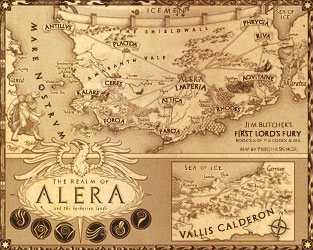 800×600
1024×768
1280×800
1280×1024
1400×900
1600×1200
1920×1200
Shout-outs go to forum members Belgarion, Kokolores, and Tsunami for their exceptional work on the fan-made map, which served as a great reference point for the project.
Pre-order First Lord's Fury (or catch up on the previous novels in the series) from the Jim-Butcher.com store!
Discuss this on the forum here.