We are delighted to announce a project fans have long been clamoring for: Side Jobs, a compilation of Dresden Files short stories. Slated for November 11th, this anthology brings together the following stories:
"Vignette"
"Something Borrowed" — from My Big Fat Supernatural Wedding
"It's My Birthday Too" — from Many Bloody Returns
"Heorot" — from My Big Fat Supernatural Honeymoon
"Day Off" — from Blood Lite
Backup — novelette from Thomas' POV, originally published by Subterranean Press
The Warrior — novelette from Mean Streets
"Last Call" — from Strange Brew
"Love Hurts" — from Songs of Love and Death
And exclusive, all-new material!
We'll post pre-order info as soon as it's available.
In the meantime, only one week remains until we start posting sample chapters for Changes, twelfth book in the Dresden Files, and a mere month and a half stands between now and the book's release! Help stave off the wait (or whip your anticipation into a frenzy) with Changes desktop wallpaper, featuring cover art by Chris McGrath.
Download it as desktop wallpaper in about every desktop size imaginable: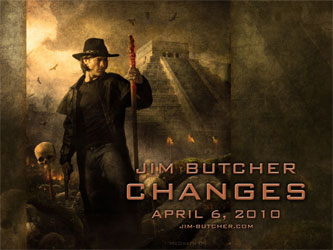 800×600
1024×768
1280×800
1280×1024
1440×900
1600×1200
1920×1200
Pre-order Changes (or catch up on the previous novels in the series) through the Jim-Butcher.com store!