Two news items for you today!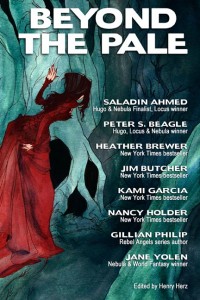 First up, Jim's "Gentleman" Johnny Marcone-focused short story Even Hand is seeing a reprint in Birch Tree Publishing's Beyond the Pale anthology. If you haven't caught this short story previously, this look inside the mind of the tiger-souled mobster is not to be missed! You can learn more about this at Birch Tree's website, linked here.
And in appearance news, we have Jim's schedule for GenCon. As with all things convention-related, this is subject to change, but is as accurate as we can make it at the time of the posting. Check the convention schedule when you're there to confirm!
THURSDAY:
NEW: 2pm-3pm – Signing at Badali Jewelry – booth 663
5pm – Writer's Craft: Creating Story Arcs – Room 243
FRIDAY: 
10am – Media Tie-In: Story to Game – Room 245
3pm-5pm – Signing in the Dealer's Hall!
6pm – Writer's Craft: Neverending Stories – Room 244
SATURDAY:
11am-1pm – Signing in the Dealer's Hall!
3pm – Q&A w/ Jim Butcher – Room 244
4pm – Urban Fantasy: Magic and the Modern World – Room 244
5pm – Urban Fantasy: Worldbuilding for Urban Fantasy – Room 244