BADALI SIGNING CLARIFICATION
We have a clarification for Jim's signing at the Badali booth at DragonCon. A fan pointed out that the 2pm signing is just one hour after the dealer's hall opens at 1pm, so instead, the Badali folks advise fans to email badalijewelry (at) badalijewelry.com and request a free timed ticket in advance. If any tickets remain the day of the signing, they will be given out to fans on a first-come, first-served basis as soon as the dealer's hall opens.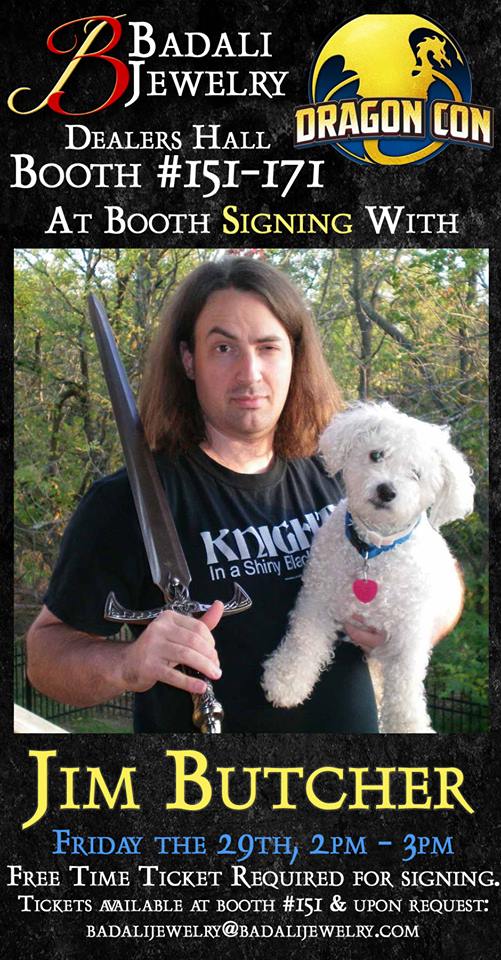 ALS ICE BUCKET CHALLENGE
After being challenged by author Larry Correia and Dresden Files Fan Filming actress Mandie Reese, Jim enlisted his nieces and nephews in an act of charitable siliness! For those who have been hiding under rocks the past week or so, the Ice Bucket Challenge involves daring people to either donate $100 to the ALS Association or post a video of you dumping a bucket of ice water on your head and donate $10. Many do both! Here's Jim's video:
DRM-FREE DRESDEN
Dynamite Comics, publishers of the Dresden Files graphic novels, have launched a DRM-Free endeavor! You can pick up the current story, War Cry, at Dynamite Digital. During the launch, they're donating 10% of all sales across the board to the Comic Book Legal Defense Fund. They're also offering 10 Dynamite #1's at .10 cents to help celebrate their 10th Anniversary! Check it out.