DRAGON*CON VIDEO
Missed Dragon*Con? No worries! Forum member AndiSue has the goods! She recorded and uploaded all six of Jim's panels that allowed filming, for your viewing pleasure. Check them out on her YouTube playlist.
WAR CRY #4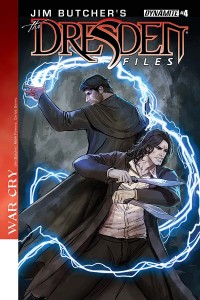 Also, issue #4 (of 5) of War Cry is out today! War Cry is an original Dresden Files graphic novel set between Dead Beat and Proven Guilty, written by Jim Butcher and Mark Powers and illustrated by Carlos Gomez. Click here for a five-page preview!
Order from Dynamite, Dynamite Digital, or ComiXology, or grab a copy from your favorite local comics store!