HAPPY BELATED TO JIM
Jim's birthday was Sunday! Share your belated birthday wishes on our forum or twitter!
WAR CRY COUNTDOWN CONTINUES
The Direct Market release of WAR CRY is just two weeks away! Get excited with Carlos Gomez's awesome concept art of Harry, Thomas, and new character Catherine Taylor! Click the thumbnails to embiggen. We'll bring you the concept art for Ramirez, Yoshimo, and Wild Bill next week.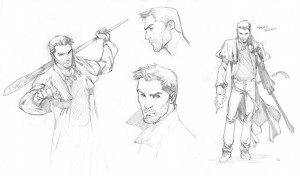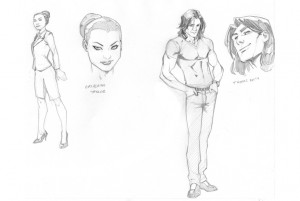 This 144-page hardcover collects all five issues of the original Harry Dresden War Cry comic book series by Jim Butcher, Mark Powers, and Carlos Gomez. It also features the complete comic book cover illustrations from Stjepan Sejic and Carlos Gomez!
WAR CRY hits the Direct Market on 11/19 and the regular Book Market a week later, on 11/25. "Direct Market" refers to dedicated comics stores, including online comics stores like Dynamite and Midtown Comics. "Book Market" is everything else, including brick-and-mortar bookstores and sites like Amazon and B&N.
You can preorder your copy from your favorite local comic store, Amazon, B&N, or Dynamite. Dynamite is also offering copies signed by Jim! Supply of the signed edition is limited, so if you're interested, definitely jump on that opportunity!
PODCAST FUN
Jim was a recent guest on the Once and Future Podcast, though this time, the roles were reversed. Hear him interview host Anton Strout!