Contents:
Paranet Papers Preview
Goodreads Choice Awards
"War Cry" Concept Art and Preorder Info
"Ghoul, Goblin" on Dynamite Digital
==========
WHAT HAPPENS IN VEGAS
==========
As an amazing Halloween treat, Evil Hat Productions has offered a FREE preview chapter of the upcoming Dresden Files RPG expansion, The Paranet Papers.
Stand together against the darkness…

In Jim Butcher's bestselling Dresden Files books, the forces of good bond together into an organization called the Paranet in a desperate attempt to protect each other in the equally desperate war against big baddies like the Red Court and the Denarians.

In 2015, you will bring the Paranet to your Dresden Files RPG game with the Paranet Papers supplement. Travel to locations in crisis like Las Vegas and South America to fight evil. Team up with characters from Turn Coat and Changes to fight evil. Join up with other Paranetters to… well, you get the picture.

The Paranet Papers. Because playing with wizards wasn't dangerous enough already.
In this early preview, they're giving you the entire Las Vegas chapter, absolutely free. Call it a Paranet Paper, if you will. And enjoy! We'll see you, again, in 2015.
==========
ELECTION DAY
==========
There's more than one election going on right now! Skin Game has been nominated for Best Fantasy in the 2014 Goodreads Choice Awards. Check out all the fantastic contenders and vote for your favorites.
The voting schedule is as follows:
Opening Round: Nov. 3 – 8
Semifinal Round: Nov. 10 – 15
Final Round: Nov. 17 – 24
Cast your first votes before polls close on Saturday, then be sure to come back on Monday the 10th to see if your favorites made the cut!
==========
WAR CRY TEASER
==========
The Direct Market release of WAR CRY comes out next week! As promised, here's the other half of Carlos Gomez's awesome War Cry concept art: young Wardens Carlos Ramirez, Yuki Yoshimo, and "Wild Bill" Meyers. Click to embiggen.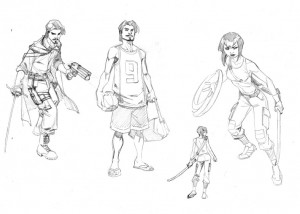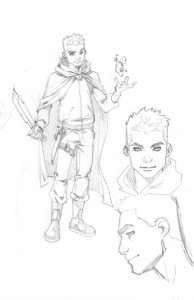 This 144-page hardcover collects all five issues of the original Harry Dresden War Cry comic book series by Jim Butcher, Mark Powers, and Carlos Gomez. It also features the complete comic book cover illustrations from Stjepan Sejic and Carlos Gomez!
WAR CRY hits the Direct Market on 11/19 and the regular Book Market a week later, on 11/25. "Direct Market" refers to dedicated comics stores, including online comics stores like Dynamite and Midtown Comics. "Book Market" is everything else, including brick-and-mortar bookstores and sites like Amazon and B&N.
You can preorder your copy from your favorite local comic store, Amazon, B&N, or Dynamite. Dynamite is also offering copies signed by Jim! Supply of the signed edition is limited, so if you're interested, definitely jump on that opportunity!
==========
GHOUL, GOBLIN ON DYNAMITE DIGITAL
==========
The collected issues of "Ghoul, Goblin" is now available in digital format! Grab your copy on Dynamite Digital!
Harry Dresden, a Chicago private investigator and wizard, heads to a small, isolated Missouri town terrorized by Nevernever monsters. The singularly unfortunate Talbot family has suffered a curse that has decimated their number for generations, and only our hero can save them… that is, if he can survive hostile lawmen, the dark secrets of townsfolk, an ancient guardian spirit, and two deadly carnivores! Can Dresden cleanse the Talbot bloodline of its curse without a blood sacrifice of his own?
"Ghoul, Goblin" is an original Dresden Files graphic novel written by Jim Butcher and Mark Powers, illustrated by Joseph Cooper, set between "Fool Moon" and "Grave Peril." It's also available for purchase in physical form at your favorite local comics shop, Dynamite.com, and various online retailers through the Jim-Butcher.com store.