CINDER SPIRES COVER AND EXCERPT
Geek news site io9 has unveiled an exclusive glimpse of Jim's next book, The Aeronaut's Windlass!  It's the first in his new steampunk series, The Cinder Spires.  Check out the cover by Chris McGrath! (Click to enlarge)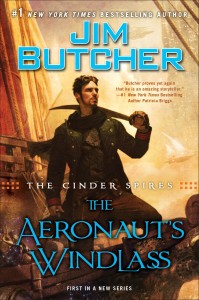 INDEPENDENCE SIGNING
We can now announce that Jim will be holding a Q&A and signing in Independence, Missouri.  Due to space considerations, only 100 people will be admitted, and they will not begin taking any reservations until April 1st.
Saturday, May 9th, 1pm
Trails West KC Library
11401 E. 23rd Street
Independence, MO
OKLAHOMA SIGNING
We included this in our previous mailing, but it was buried pretty deep in the announcement, so we figured we'd announce it again. Due to personal reasons, Jim had to reschedule his events in Oklahoma that were originally slated for this week. Here are the new dates and times!
Wednesday, March 25, 2015, 1-2 p.m.
NSU Tahlequah Webb Auditorium
Wednesday, March 25, 2015, 6-7 p.m.
NSU Tahlequah Webb Auditorium
Thursday, March 26, 2015, 1-2 p.m.
NSU Broken Arrow Auditorium
Thursday, March 26, 2015, 6-7 p.m.
NSU Broken Arrow Auditorium
WORKING FOR BIGFOOT
Subterranean Press has announced a collection of Dresden Files stories, uniting the three Bigfoot shorts previously published in other anthologies and the Humble charity bundle eariler this year. Their summary is below:
Chicago wizard for hire Harry Dresden is used to mysterious clients with long hair and legs up to here. But when it turns out the long hair covers every square inch of his latest client's body, and the legs contribute to a nine-foot height, even the redoubtable detective realizes he's treading new ground. Strength of a River in His Shoulders is one of the legendary forest people, a Bigfoot, and he has a problem that only Harry can solve. His son Irwin is a scion, the child of a supernatural creature and a human. He's a good kid, but the extraordinary strength of his magical aura has a way of attracting trouble.

In the three novellas that make up Working For Bigfoot, collected together for the first time here, readers encounter Dresden at different points in his storied career, and in Irwin's life. As a middle-schooler, in "B is For Bigfoot," Irwin attracts the unwelcome attention of a pair of bullying brothers who are more than they seem, and when Harry steps in, it turns out they have a mystical guardian of their own. At a fancy private high school in "I Was a Teenage Bigfoot," Harry is called in when Irwin grows ill for the first time, and it's not just a case of mono. Finally, Irwin is all grown up and has a grown-up's typical problems as a freshman in college in "Bigfoot on Campus," or would have if typical included vampires.

New York Times bestseller Jim Butcher explores the responsibilities of fatherhood and the difficulties of growing up with the elements Dresden Files fans crave—detection, adventure, humor, and magic.

Limited: 1000 signed numbered hardcover copies: $60
Trade: Fully cloth-bound hardcover copies: $35
Lettered: 26 signed leatherbound copies, housed in a custom traycase: $275