Looking for gift ideas for the fantasy fan in your life, or wondering what to ask the Erlking for in this year's yuletide Wild Hunt? We've got you covered!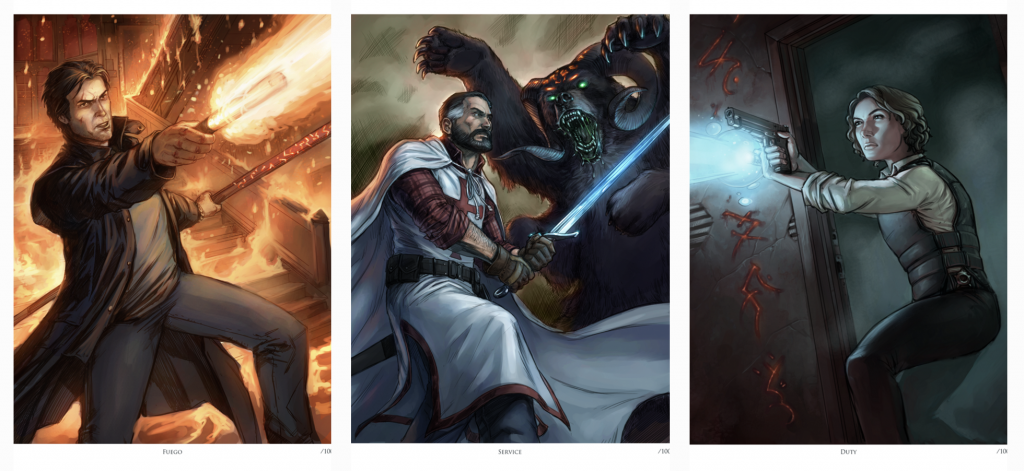 DAY ONE, DAYS EARLY
To our surprise, Unfettered II has been released in Kindle format early! This anthology edited by Shawn Speakman features the Butters-POV story "Day One," which takes place shortly after Skin Game. If you prefer hardcover, you don't have long to wait–it's due out December 6th.
WORLDBUILDERS
Jim and the Dresden Files are well represented in Worldbuilders this year. For those new to the blog, Worldbuilders is a charity run by Patrick Rothfuss to benefit Heifer International, which combats global poverty and hunger. Fans will be delighted to see the Parkour shirt from last spring's "Geeks Doing Good" fundraiser is now available to the masses, and you can donate to the Worldbuilders lottery for a chance to win a massive set of Pat's 40 favorite fantasy books and series, which includes paperbacks of the novels through Ghost Story. Keep an eye on Pat's blog for more exciting opportunities to score awesome swag while saving the world!
BADALI JEWELRY
Our friends at Badali Jewelry have been massive supporters of Worldbuilders from the beginning, and this year, when you use the coupon code WBLD15, they'll give you $10 off and donate 10% of your entire purchase to Worldbuilders. Badali are the official jewelers of the Dresden Files, and their gorgeous wares include Harry's shield bracelet, pentacle necklace, force rings, and Winter Knight ice opal earring. They also have Good Bob and Evil Bob pendants, which are a delight. They also just added a Lasciel piece, available as a coin or on a necklace! Be sure to check out their website to peruse the full list of new licensed added this year. If you dig Jim's work, you're sure to love a whole slew of their other properties.
NEW DFCO PRINTS
Tyler Walpole, the artist for Evil Hat's upcoming Dresden Files Co-Op card game, has released a set of prints of his artwork for the game, seen at the top of this post. Choose Harry, Michael, Murphy, or some permutation of all three!
Each illustration is available in two sizes (8×10″ or 11×14″), printed photographically on Fuji Professional Crystal Archive Super Type silver halide papers and processed in Fuji Professional Digital RA-4 Chemistry. Prints of each size are limited to only 100 copies and signed-and-numbered by the artist.
FANTASY MAPS
Priscilla Spencer (me!)–mapmaker to Jim Butcher, Seanan McGuire, Kevin Hearne, and many more of your favorite fantasists–is offering 10% off map posters with the code HOLIDAY16. All holiday orders MUST be placed by December 5th.
REMINDER
Beyond that, you can always find a wealth of treats for yourself and every fantasy geek on your list at our store. If you haven't already, you can pick up the Paranet Papers expansion to the Dresden RPG, the new graphic novel Wild Card, the Shadowed Souls anthology (featuring the Molly story "Cold Case"), and the Unfettered II anthology (featuring the Butters story "Day One").