HAPPY (EARLY) BOOKDAY, SHADOWED SOULS!
Tomorrow sees the release of the anthology Shadowed Souls, edited by Jim Butcher and Kerrie L. Hughes and featuring stories by Jim, Seanan McGuire, Kevin J Anderson, Rob Thurman, and more.  Jim's entry is a Molly-POV story about her first job following the events of Cold Days, so if you haven't read that book yet, beware of MAJOR spoilers.  You can snag your copy in a variety of formats from our store or your favorite independent bookstore!
Also, if you haven't picked up your copy of the new Wild Card graphic novel, which was released last week, you may want to check that out as well.  Wild Card pits Harry and Murphy against the treacherous faerie Puck, who is less of a "good fellow" than Shakespeare would have you believe.
RELEASE DATE AND COVER REVEAL FOR UNFETTERED II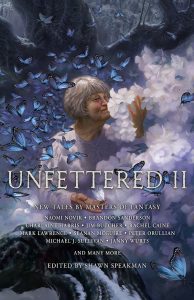 (click to embiggen)
The upcoming Unfettered II, edited by Shawn Speakman, now has a cover and a release date: December 6th!  This anthology includes Jim's Butters-POV short story Day One, about our favorite polka enthusiast's first mission after the events of Skin Game.  Check out the full table of contents here, which includes titans of the genre like Charlaine Harris, Brandon Sanderson, Naomi Novik, and Seanan McGuire! Preorder your hardcover here. Hopefully, it will soon be made available in ebook and audio format as well.
BADALI BIRTHDAY SALE ENDS TONIGHT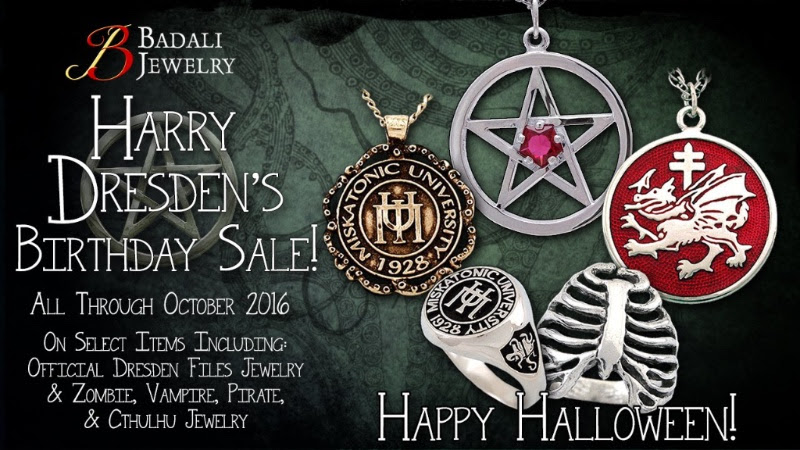 On the last day of Badali Jewelry's Harry Dresden Birthday Sale, you can take 15% off your entire purchase, including sale items! Use coupon code 'BOO' at check out!
Badali are the officially licensed jewelers for works by Jim Butcher, Brandon Sanderson, Gail Carriger, Patrick Rothfuss, Kevin Hearne, JRR Tolkien, and many more of your favorite writers.  They've put their entire line of Dresden Files jewelry on sale, plus a fantastic selection of their other supernatural-themed pieces. Check it out and save big!