Hello, my lovelies! Today is a stressful day, and my attention span is putting goldfish to shame, so let's relax with some awesome fanart, yeah?
Goodreads Choice Awards

The opening round of the 2020 Goodreads Choice Awards is still going strong! Peace Talks made the short list in the Best Fantasy category, and Jim is in excellent company, vying against some of the most beloved names in the genre. Check out all the nominees! You have until Sunday, November 8th, to make your selections.
---
Inktober Wrap-Up
"Bonus Villain: Jim Butcher" by Luke Schroder
Throughout the past month, we've been admiring the work of Adam Mathison-Sward and Luke Schroder, two illustrators who chose Dresden themes for Inktober. Here's a sampling of the pieces they've produced since we last checked in with them!
From Adam: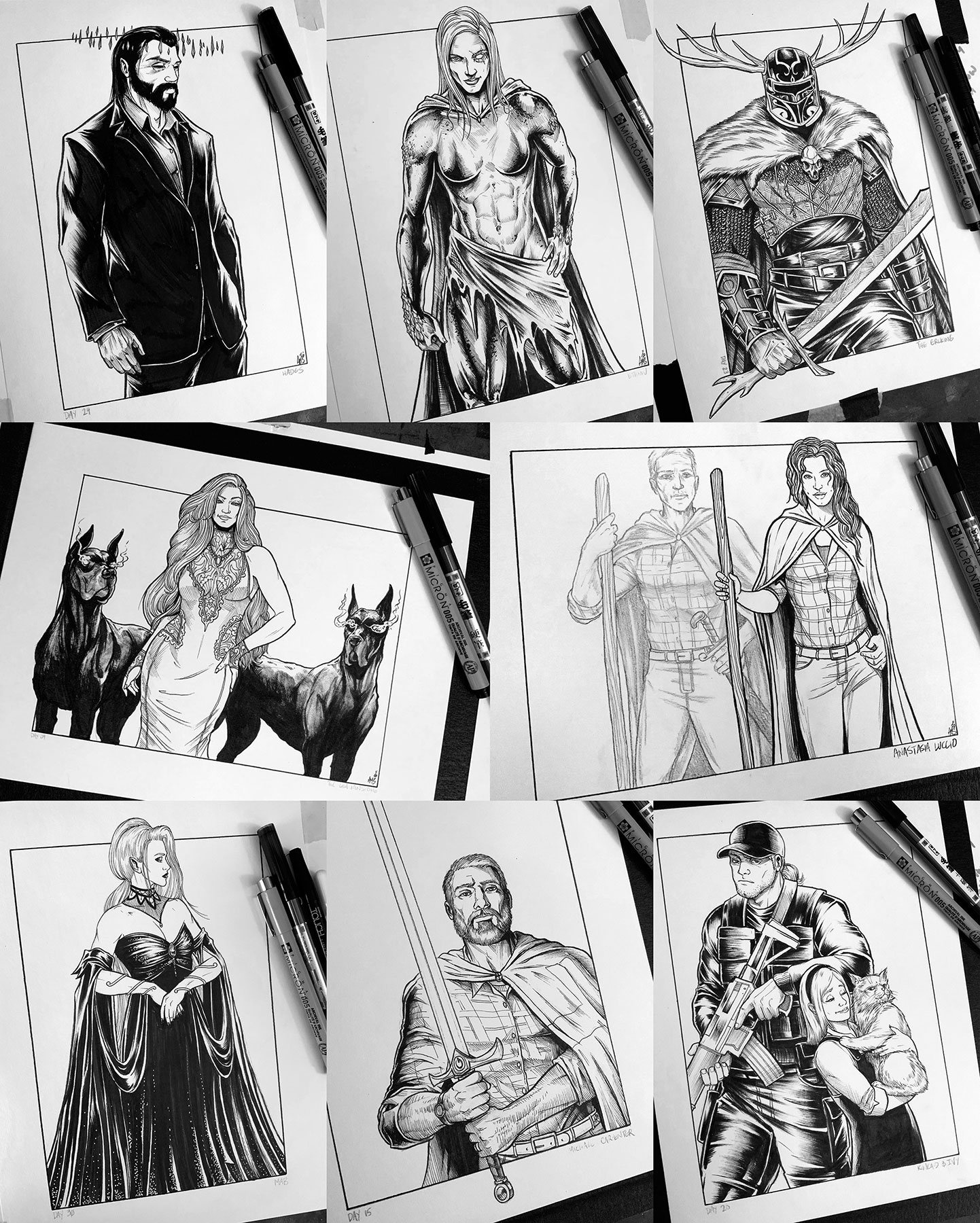 From Luke: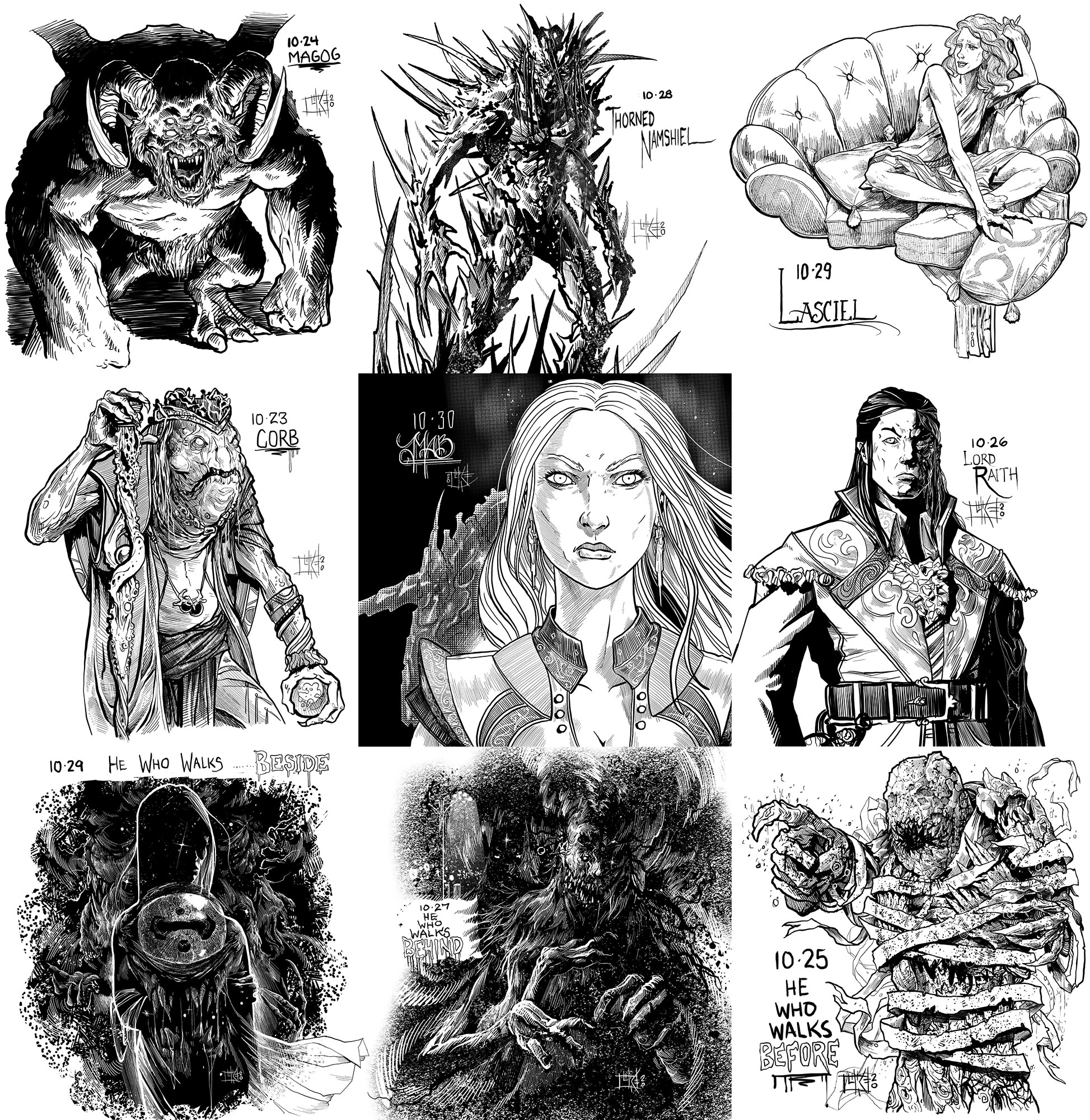 You can see all of Adam's images on his Twitter or Instagram and all of Luke's on his Facebook. Be sure to leave them lots of love in the comments of your favorite illustrations!
---
Call for Photos
Did you dress up as one of Jim's characters this Halloween? We'd love to see your photos and include them in a future drop! Send them in to yearofdresden@gmail.com and let us know how you'd like to be credited. Thanks to those of you who have already submitted images!
---
Remembering Rachel Caine
We'd be remiss if we didn't acknowledge the passing of Rachel Caine, one of the defining voices in the urban fantasy genre, who succumbed to a battle with cancer on Sunday. Her career was exceptionally prolific, producing nearly 50 novels since her debut in 2003. Her engaging stories gained her legions of dedicated readers, and her humor, wisdom, and generosity of spirit earned her the appreciation and admiration of colleagues, new writers, and people throughout the industry and beyond. We offer our sincerest condolences to the many who loved her and her work.
If you haven't read any of her work or have gaps in your reading list, here's a thread of her ebooks currently on sale. We suspect Dresden Fans would most enjoy the Weather Warden and Morganville Vampire series, but we encourage folks to take a look around and read a synopsis or two of her various series. In such an impressively sprawling body of work, there's bound to be something for everyone!
---
And that's it for this week! Visit Jim-Butcher.com every Tuesday this year for weekly Drops of never-before-seen artwork, microfiction, interviews, contests, sample chapters for Peace Talks and Battle Ground, and other tasty tidbits in our celebration of the 20th Anniversary of the Dresden Files. Join our new mailing list and follow @jimbutchernews on twitter to ensure you don't miss a moment, and check the announcement post to catch up on prior Drops.
Still need a copy of Peace Talks, Battle Ground, or anything else by Jim? Support your favorite local independent bookstore, or order in print, audio, or ebook through the Jim-Butcher.com Store. You can grab a signed copy of Battle Ground from Mysterious Galaxy and Barbara's Bookstore (though we STRONGLY recommend confirming availability of signed stock before placing your order at either place) or a book with a signed bookplate from Worldbuilders.