The big draw this week is our fourth Microfiction, but there's plenty more to get excited about! We've got the Dresden Files Cooperative Card Game's debut on switch, an upcoming Trailer Rewatch event, a $1.99 ebook deal on Death Masks, and more. It's also the last week to submit your costumes for our contest. Read on!
---
Microfiction #4: Job Placement
Given how fraught the outside world is (murder hornets? MURDER HORNETS?!?!), we thought it was perfect timing for some domestic cuteness with everyone's favorite Scion of Sasquatch, Irwin Pounder. This microfiction contains spoilers for the short story "Bigfoot on Campus" which appears in the Brief Cases anthology. It's set between Skin Game and Peace Talks, but doesn't require knowledge of either.
Read Job Placement!
Also, Jim feels like writing more short Dresdenverse stories, and he wants to know who you want to read about. Vote in our poll! You can pick as many characters as you like, including suggesting Dresden characters not in the poll using the "Other" box. Or you can vote for Jim to create all new characters!
---
Costume Contest Entries Due Next Tuesday
We've seen some fabulous entries for the Dresden Files Costume Contest so far, but we know they barely scratch the surface of all the awesome cosplay passion the fanbase has produced.
To inspire you to enter, we offer a bribe of some photos of Jim cosplaying with his wife Kitty Krell and friends. Photos by WeNeals and Andrea Gonzales.
Read all the rules, then submit your cosplay, cosplay photography, and cosplay image manipulations to yearofdresden@gmail.com by May 12th.
---
DFCO Now on Switch
Need more stay-at-home fun/distraction? The Dresden Files Cooperative Card Game was released yesterday for the Switch! Snag your copy now.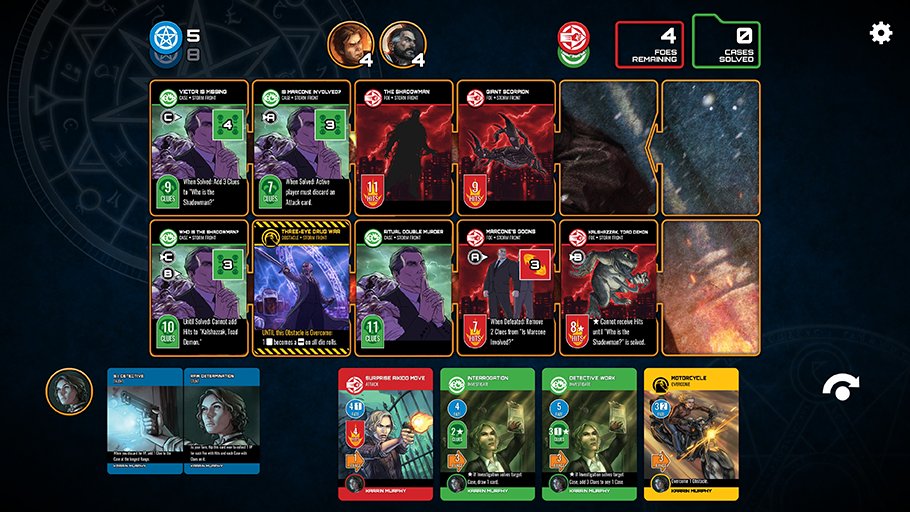 What is the DFCO? It's a surprisingly challenging strategy game, where you play Harry Dresden and his friends as they take on the cases from the bestselling Dresden Files novels in the ultimate what-if scenario: what if Harry was on the scene with allies who weren't there in the original story? Fans will appreciate the characters and references, but knowledge of the series is not required.
This digital version of the game was created by Hidden Achievement based on the tabletop version by Evil Hat Productions, featuring art by Tyler Walpole. In addition to the Switch, you can download it from the App Store for iOS, Google Play, or Steam! The game supports single player mode and both cross-plaform multi-player gaming and local pass-and-play, for all your quarantine and post-lockdown needs.
---
Milestone Approaching for Trailer
We had so much fun celebrating 150k views on the trailer that we thought we'd host another rewatch leading up to 175k. Daily view counts have been a little unpredictable as states begin to reopen and people's schedules change, but we expect to hit this milestone on Thursday. Follow JimButcherNews on Twitter and the #DresdenTrailerRewatch hashtag for fun facts about the making of trailer, resuming Thursday morning!
---
Great Fantasy Debate Coming Soon
Penguin's new online game show The Great Fantasy Debate premieres today, and Jim's guest appearances are scheduled for May 12th and June 23rd! Tune in next week as Jim, Pierce Brown, and comedians Sean Donnelly and Jay Jurden debate "Which is the best fantasy world to go to for vacation?"
Watch new episodes as they air on Penguin's Facebook Page.
---
Reminders
We've expanded out social media presence! You should already know about the JimButcherNews Twitter feed, but we've also added accounts on Facebook and Instagram as well. Give us a follow and enjoy all the content that doesn't make it into our Drops, like the Trailer Rewatch thread, the Quarantine House Game, and more!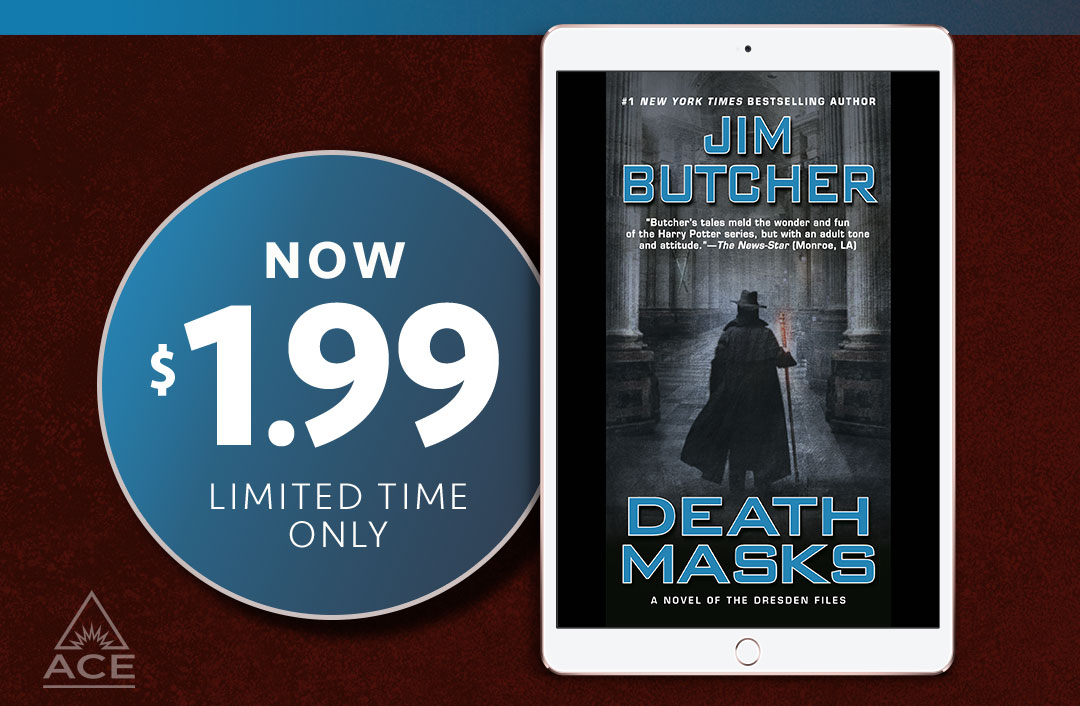 The electronic edition of Death Masks is discounted at $1.99 through May 10th! Support independent bookstores by ordering through Bookshop.org, Books-A-Million, or Kobo (here's how to support your favorite local shop!), or from the following vendors: Amazon, Apple Books, Barnes and Noble, Google Play.
---
Visit Jim-Butcher.com every Tuesday this year for weekly Drops of never-before-seen artwork, microfiction, interviews, contests, sample chapters for Peace Talks, or other tasty tidbits in our celebration of the 20th Anniversary of the Dresden Files. Join our new mailing list and follow @jimbutchernews on twitter to ensure you don't miss a moment, and check the announcement post to catch up on prior Drops. We'll see you on Twitter this Thursday, then back here next week!