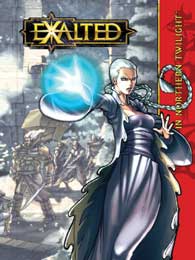 In Northern Twilight by Jess Hartley
Long ago, in the First Age, mortals became Exalted by the Unconquered Sun
and other celestial gods. These demi-gods were Princes of the Earth and
presided over a golden age of unparalleled wonder. But like all utopias, the
age ended in tears and bloodshed…"

In an epic setting rich with exotic atmosphere, Swan, a dedicated diplomat
with an eye towards the future, crosses paths with Arianna, a sorcerous
ice-maiden bearing years of grudges with her. Together, they are challenged
by brutal hunters and savage monsters but the greatest of the challenges
facing them is their new destiny.

In Northern Twilight is the third in a new open ended series of stand-alone
fiction novels set in White Wolf's Exalted universe.
"…descriptions are strong and vivid… there's much to admire…" –
Jacqueline Carey, author of "Kushiel's Legacy" describing Hartley's writing.
"Yes, yes, it's an intriguing story in a richly realized world with gorgeously vivid action scenes, but that's not important. The IMPORTANT thing here is that I get my hands on the next one." – Jim Butcher