Courtesy of the Sci Fi news wire…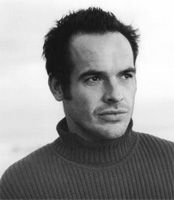 Blackthorne To Play Dresden
SCI FI Channel has cast Paul Blackthorne (24) as Chicago-based wizard and detective Harry Dresden in its upcoming TV movie The Dresden Files. David Carson (Star Trek: Generations) has been tapped to direct the two-hour backdoor pilot, which will commence production in Toronto later this month, with plans for a summer 2006 premiere, the network said. Blackthorne is perhaps best known as the villainous Stephen Saunders on Fox's 24.
The Dresden Files is based on the best-selling series of novels by Jim Butcher. It is being produced by Lions Gate Television, in association with Nicolas Cage's Saturn Films. Hans Beimler (Profiler) and Robert Wolfe (The 4400) will serve as executive producers alongside Cage, his Saturn Films partner, Norm Golightly, and Morgan Gendel. Beimler and Wolfe wrote the script.
The Dresden Files centers on Dresden, a private eye with extraordinary abilities. Where others see typical crimes of assault, kidnapping and murder, he sees otherworldly forces at work.