The headline says it all! Let's dive right in.
Costume Contest
We had such fun with our Fanart Contest that we want to honor another section of the Dresden fandom's creatives: cosplayers and cosplay photographers! Read all the rules, then submit your Cosplay Contest entries to yearofdresden@gmail.com by May 12th.
---
Coloring Pages
Running low on things to binge on Netflix? Fresh out of animals to cross? Feeling more schooled by your kids than the reverse? We've got you covered. Adam Mathison-Sward can't operate his tattoo parlor during the lockdown, so he's used some of his downtime to produce a quintet of Dresden images ready for coloring! We're sharing these three pages for free, and if you like what you see, we're offering two additional coloring pages in exchange for donations in support of your community.
Make a donation in any amount to your local food bank, or give back to the Dresdenverse small business community by buying a piece from Adam's shop or Badali Jewelry or pledging to Adam's Patreon. Forward your receipt to yearofdresden@gmail.com, and we'll send you two more coloring pages to show our gratitude! Click to embiggen.
If you'd be interested in seeing a full Dresden Files coloring book, let us know! And if you're looking for more goodies to help pass the time in quarantine, Penguin is still offering ebooks Storm Front, Fool Moon, and Grave Peril at reduced rates. Get the links in last week's post.
---
Support Badali Jewelry!
Our friends at Badali Jewelry are facing a rough patch due to the cancelation of much of the 2020 con season. If you've been eyeing a piece, they'd greatly appreciate your support! They're also selling gift cards and accepting direct donations via GoFundMe. Please help us ensure high quality, officially licensed, handcrafted-in-the-USA fandom merch stays in business. And hey, Mother's Day is coming up, and Margaret LeFay's ruby pentacle would be a fabulous gift for any mama geek…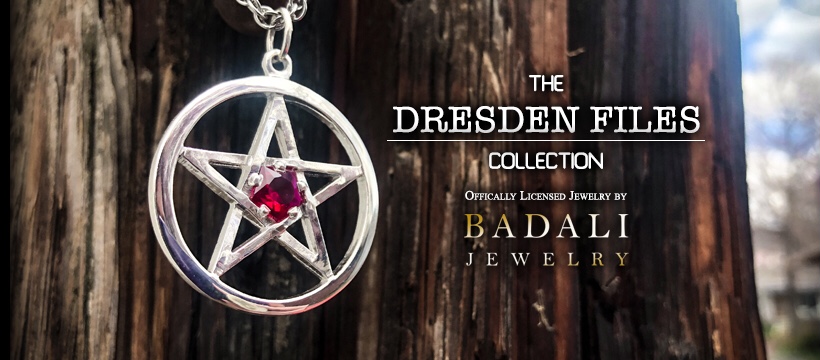 ---
Healing Vibes for Blaze
And finally, in the moments before this story was posted, we learned our beloved Blaze (here cosplaying as Queen Mab) has COVID-19 and has been hospitalized due to complications with pneumonia. Those who frequented the Jim-Butcher.com forums will undoubtedly recall her boundless generosity, her kindness, and her uproarious sense of humor. Please join us in sending her and her family your love, your healing energies, and your best wishes for a speedy recovery, as we send our love to all those in our community impacted by the virus.
---
And that's it for this today!
Visit Jim-Butcher.com every Tuesday this year for weekly Drops of never-before-seen artwork, microfiction, interviews, contests, sample chapters for Peace Talks, or other tasty tidbits in our celebration of the 20th Anniversary of the Dresden Files. Join our new mailing list and follow @jimbutchernews on twitter to ensure you don't miss a moment, and check the announcement post to catch up on prior Drops. See you next week!