This week is a bit scattered, but it's SCATTERED AWESOME, so who are we to complain? We've got some great book deals, delightful new art, and some behind-the-scenes photos for the making of the trailer!
April Fool's Redux
Last week's prank of a re-release of the Peace Talks trailer with "improved" visual effects was ridiculously silly (you all watched the real trailer first, yes?), but the fun didn't stop there! Before the day was done, illustrator and tattoo artist Adam Mathison-Sward was already hard at work on a tribute to a previous April Fool's prank: our 2011 "announcement" of the Li'l Harry Adventures children's book series. We thought they were too perfect not to share! Check out his (fake) covers for the (fake) spinoff.
You can check out all our previous April Fool's pranks here:
---
Book Deals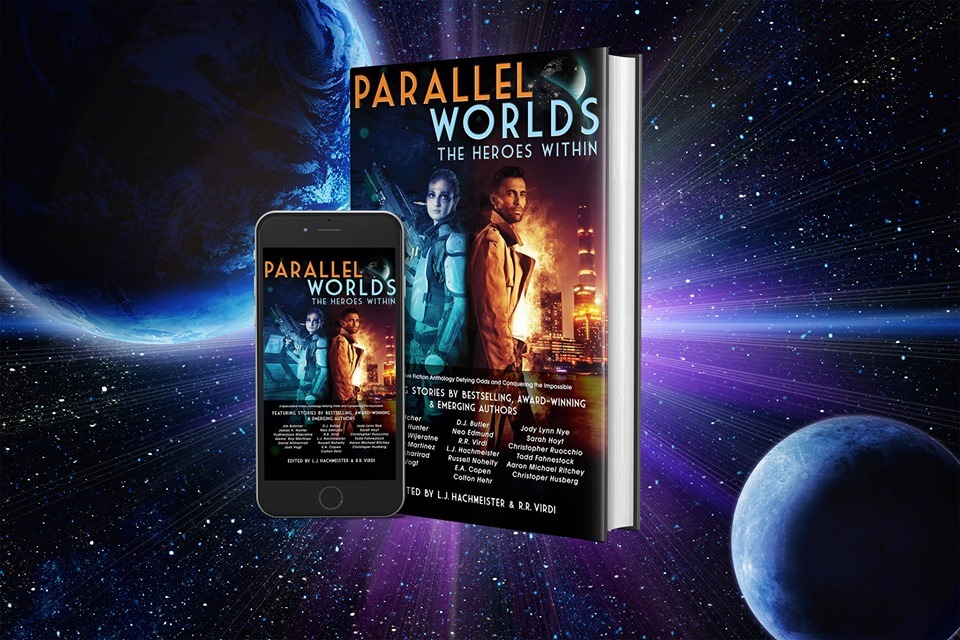 TODAY ONLY: the Parallel Worlds anthology, which contains the Goodman Grey-POV short story "Monsters," is on sale for 99 cents! Find out what happens when our favorite amoral shapeshifter pulls a job for John Marcone.
Note: Co-editor LJ Hachmeister is currently working on the front lines as a registered nurse at an ER in Denver, helping stem the tide of Covid-19. All her books are also now on sale for 99 cents, so if you dig fantasy, military sci-fi, and space opera, it's the perfect time to grab a copy of her work! And if you're looking for another awesome urban fantasy to tide you off until Peace Talks, pick up the "Grave Report" series or "Dangerous Ways" by her co-editor R.R. Virdi.
You can also still snag the first three books at a reduced rate, and this week we're adding Skin Game for $2.99! If you have friends who are stuck at home because of social distancing and on the lookout for a new series, now is the perfect time to catch up!
---
Upcoming Books Update
Library Journal has given Peace Talks a starred review! Their verdict: "With many familiar faces returning and lots of magical action, this latest from Butcher will have fans rejoicing at the return of Chicago's only professional wizard." –Kristi Chadwick, Massachusetts Library System, Northampton
Also, Battle Ground is now preorderable in audiobook! Note: If you're an Audible subscriber and want to preorder using credits, please make sure you've logged into Audible beforehand. It'll only give you the "buy with Audible credit" option if you're already logged in.
Support this website by preordering both books from our store!
---
Trailer: Behind the Scenes
Each moment in the trailer went by so quickly, it was hard to appreciate all the work that went into each setup! Here's a glimpse behind the scenes, thanks to photographer Yrene Ramirez. Click to embiggen.
Haven't seen the official book trailer for Peace Talks yet? See it now, or see it again!
---
And that's it for this week!
Visit Jim-Butcher.com every Tuesday this year for weekly Drops of never-before-seen artwork, microfiction, interviews, contests, sample chapters for Peace Talks, or other tasty tidbits in our celebration of the 20th Anniversary of the Dresden Files. Join our new mailing list and follow @jimbutchernews on twitter to ensure you don't miss a moment, and check the announcement post to catch up on prior Drops. See you next week!