This week's Dresden Drop brings new Q&A events, writing classes, preorders for a deluxe edition of Storm Front, and a spotlight on some fabulous fanart! Read on!

Both books in this summer's Dresden Duology are out in the wild! You can now read Peace Talks and Battle Ground, volumes 16 and 17 of this anticipated 25 book saga.
"This is urban fantasy at its best, combining spectacular magic and deeply explored character." —Publishers Weekly
Still need a copy? Support your favorite local independent bookstore or order in hardcover, audio, or ebook through the Jim-Butcher.com Store. You can grab a signed copy from Mysterious Galaxy and Barbara's Bookstore (though we STRONGLY recommend confirming availability of signed stock before placing your order at either place) or a book with a signed bookplate from Worldbuilders.
---
Friday, Friday, Friday!
Jim is going to be BUSY this Friday, October 9th! In the morning, he'll sit down for a Q&A hosted by James Marsters and a series of personalized meet-and-greets at a Virtual New York Comic Con, and in the evening, he'll teach two writing classes virtually through Arizona State University.
NYCC: 20 Years of Harry Dresden: 11:30am-12:00pm ET / 8:30am-9:00am PT
Join Jim Butcher and series narrator James Marsters (Buffy the Vampire Slayer) as they dive into the world of Harry Blackstone Copperfield Dresden, Chicago's first (and only) Wizard P.I.
NYCC: Jim Butcher Meet-and-Greet: 12:30-1:30pm ET / 9:30am PT
Join bestselling author Jim Butcher in a personal online one-to-one video meet and greet! Ticket includes a branded video recording of the experience as a memento and a copy of Battle Ground with a signed bookplate. ONLY 30 SLOTS AVAILABLE.  
ASU: Fundamentals of Writing: 8:00-9:00pm ET / 5:00-6:00pm PT
The first of Jim's two writing craft classes covers the fundamentals. This class is FREE to the public! Register at the link to watch via Zoom, or watch it on Facebook. This event will NOT be recorded, so you'll need to catch it live!
ASU: Scenes and Sequels: 9:30-11:30pm ET / 6:30-8:30 PT
The second of Jim's two craft classes covers "scenes and sequels," a subject Jim broached in an excellent LJ post back in 2006. In this paid two-hour workshop ($89 for ASU students, $99 for guests), he'll go into much more thorough examination of these essential structural elements of fiction. This class filled up before we could promote it, but interested parties can join the waitlist.
---
Q&A Replay
Did you miss last week's Q&As? Check out Jim's interviews at Barbara's Bookstore and Muskogee Public Library.
---
Grim Oak Press' Storm Front On Sale Now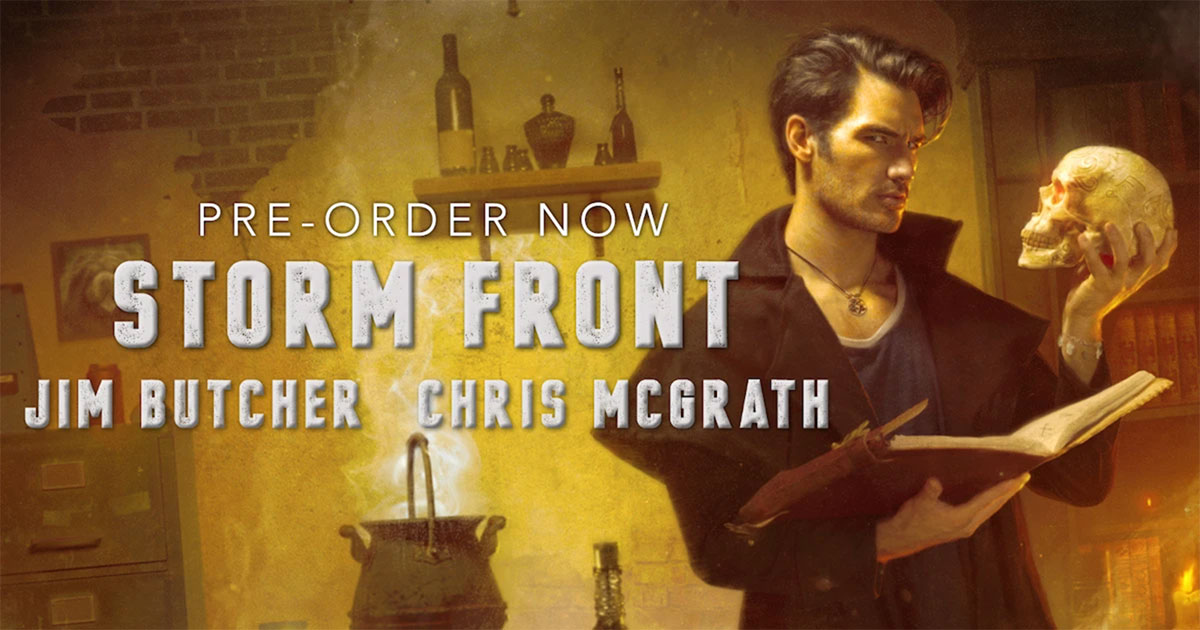 Shawn Speakman of Grim Oak Press has unveiled a full-color deluxe edition of Storm Front, lavishly illustrated by Chris McGrath, and you can preorder your copy now!
---
Magink Begins
We're super jazzed about an endeavor by artist Adam Mathison-Sward, who you may recognize from his work on Jim's short stories "Christmas Eve" and "Everything The Light Touches" and Worldbuilders' bookplate for Battle Ground.
Every day in the month of October, he'll be posting a new inked Dresden Files illustration, and every Saturday, he'll livestream his work! You can vote on each Viewer's Choice illustration in the prior Monday's illustration on his Instagram, which for this week is here. Follow his work on Instagram or Twitter! Here's his schedule and October's pieces so far: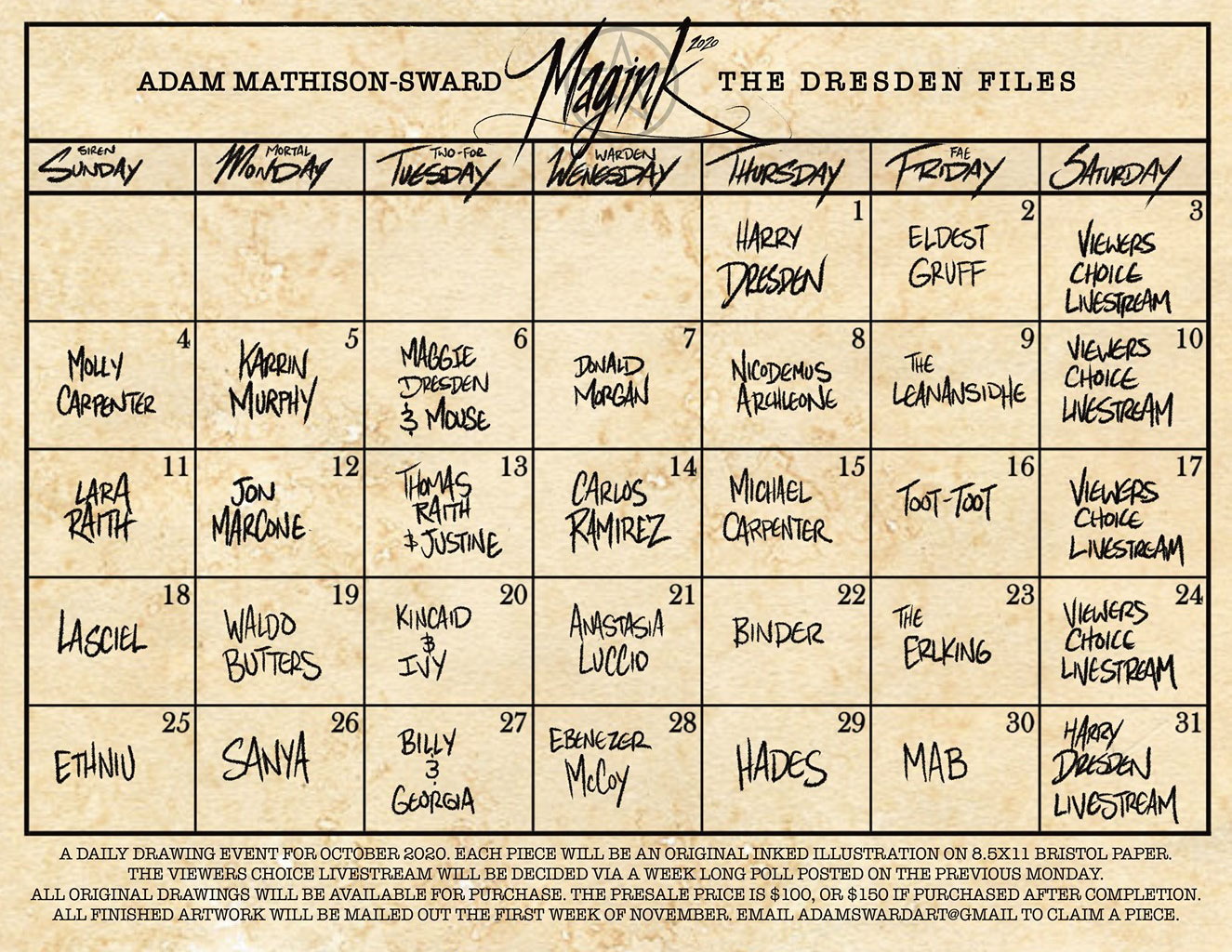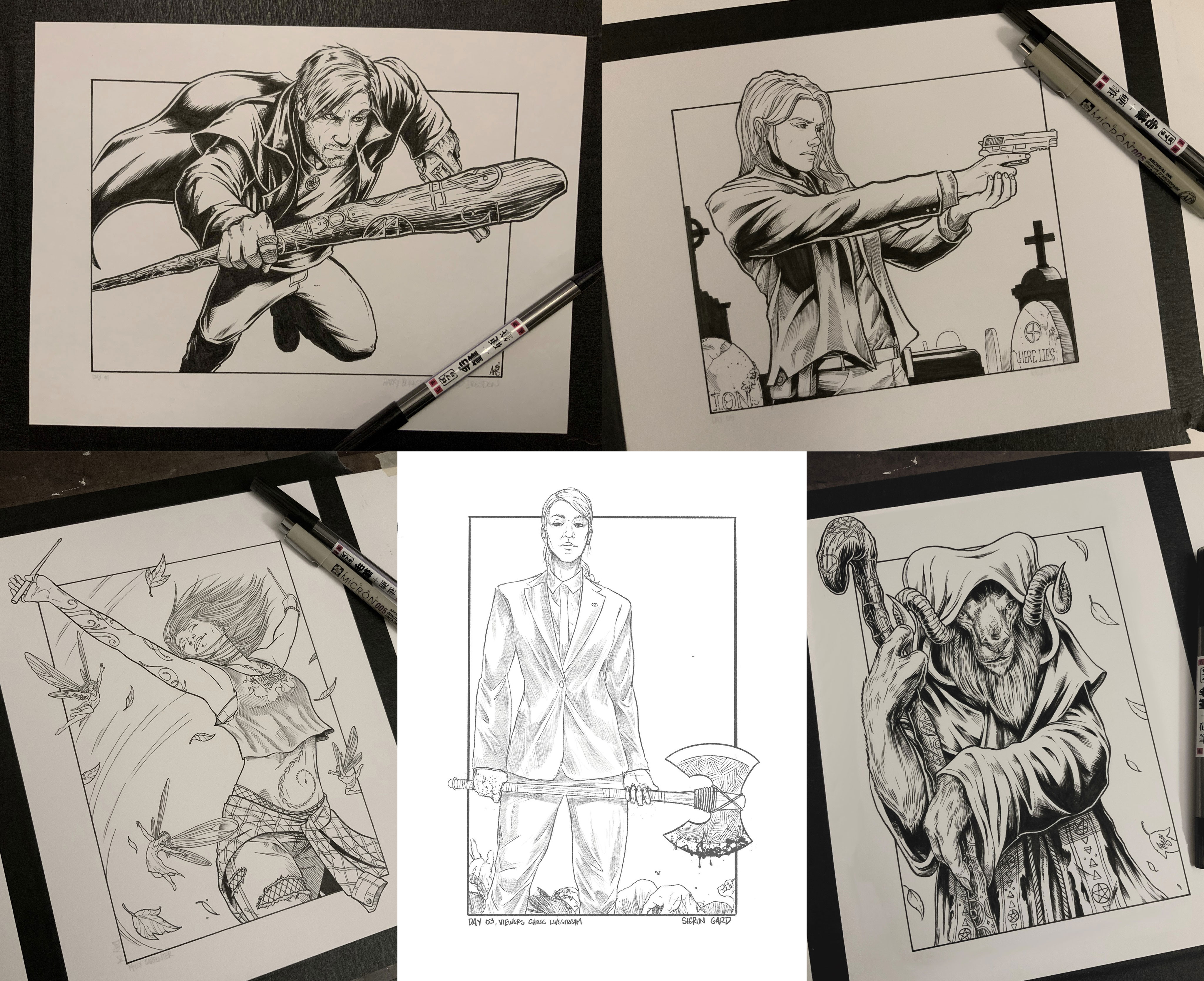 ---
And that's it for this week! Visit Jim-Butcher.com every Tuesday this year for weekly Drops of never-before-seen artwork, microfiction, interviews, contests, sample chapters for Peace Talks and Battle Ground, or other tasty tidbits in our celebration of the 20th Anniversary of the Dresden Files. Join our new mailing list and follow @jimbutchernews on twitter to ensure you don't miss a moment, and check the announcement post to catch up on prior Drops.