"[Battle Ground] is urban fantasy at its best, combining spectacular magic and deeply explored character." —Publishers Weekly
---
This week's Dresden Drop brings a Q&A with Jim and James Marsters and gorgeous new bookplate art from Tyler Walpole! I'd say "let's start with the pretties," but BOTH stories involve pretties, so… let's start with the illustrated pretties? Let's go!
---
Battle Ground Bookplates
Did you buy a copy of Battle Ground before we started offering them signed, or do you prefer unsignable electronic or audio formats? We have a solution!
We're thrilled to unveil the art for Tyler Walpole's stunning bookplates for Battle Ground, which will feature signatures from Jim Butcher and the artist. They have an adhesive backing, so you can stick one in a book, on the back of your e-reader, or anywhere else that suits your fancy.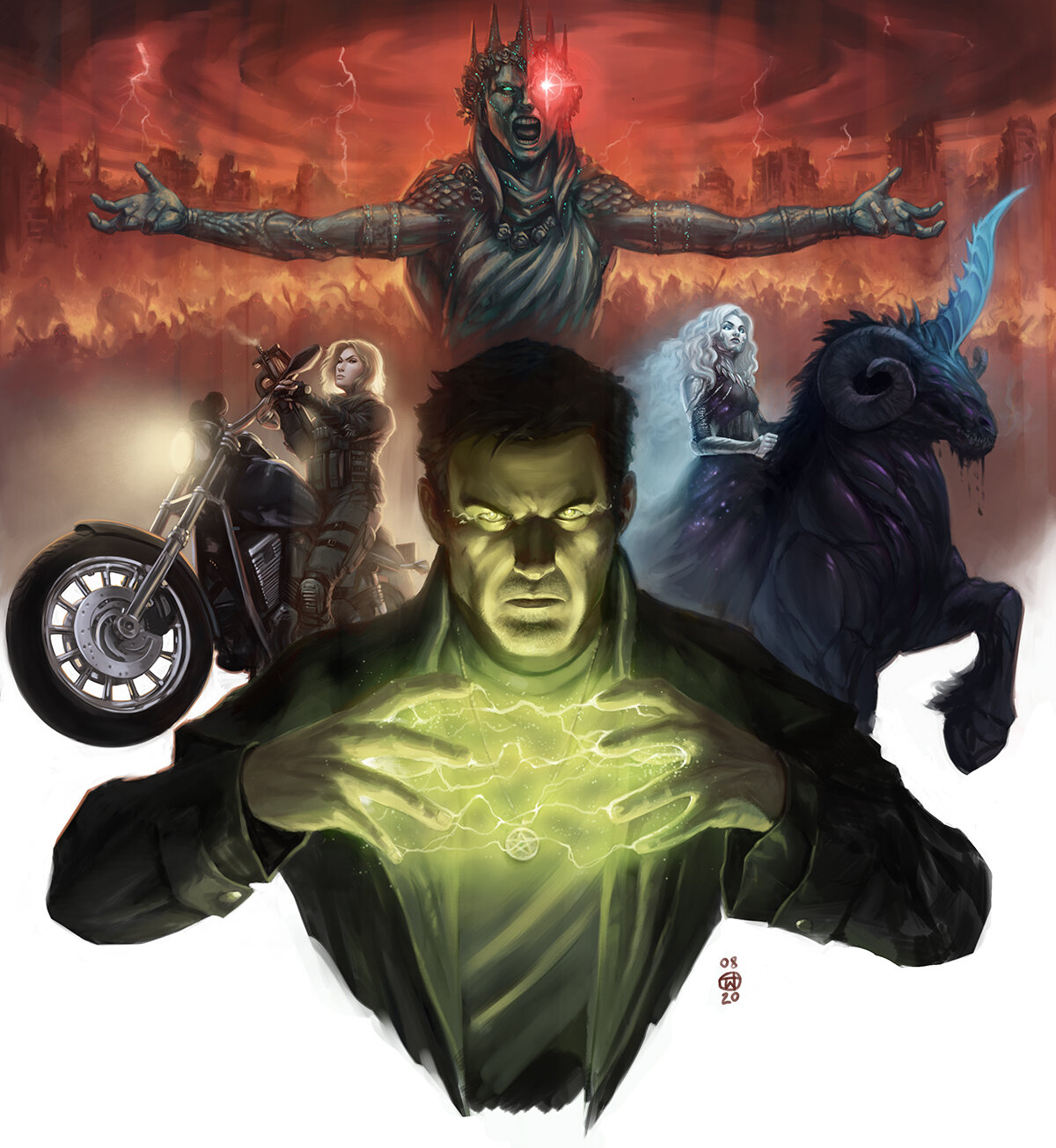 Tyler's batch of Peace Talks bookplates sold out in 8 hours, so for Battle Ground, he's giving everybody a fair shake and notifying fans in advance of when they'll be released. Subscribe to his newsletter to get all the necessary info, including the date and time the plates will go on sale and a link to purchase when the time comes!
Note that these are different from the Worldbuilders bookplates, which are illustrated by Adam Mathison-Sward. Or if you want a signed copy of the book (NOT a bookplate), awesome indie booksellers Mysterious Galaxy and Barbara's Bookstore still have signed inventory available for purchase and ship internationally.
Want to see more of Tyler's Dresden work? He created literal HUNDREDS of illustrations for the Dresden Files Cooperative Card Game, available in physical edition or electronically on iOS, Android, Steam, Switch, Kindle, and more!
---
NYCC Rewind
On Friday, Jim sat down with James Marsters (Spike on Buffy and narrator of the Dresden audiobooks) as part of the Virtual New York Comic Con. The two discussed a host of fascinating subjects, both personal and professional, and took turns low-key fanboying each other. All in all a great time! Check it out on NYCC's YouTube:
---
And that's it for this week! Visit Jim-Butcher.com every Tuesday this year for weekly Drops of never-before-seen artwork, microfiction, interviews, contests, sample chapters for Peace Talks and Battle Ground, and other tasty tidbits in our celebration of the 20th Anniversary of the Dresden Files. Join our new mailing list and follow @jimbutchernews on twitter to ensure you don't miss a moment, and check the announcement post to catch up on prior Drops.
Still need a copy of Peace Talks or Battle Ground? Support your favorite local independent bookstore, or order in hardcover, audio, or ebook through the Jim-Butcher.com Store. You can grab a signed copy of Battle Ground from Mysterious Galaxy and Barbara's Bookstore (though we STRONGLY recommend confirming availability of signed stock before placing your order at either place) or a book with a signed bookplate from Worldbuilders.