The announcement of the fanart contest winners has been delayed until next week, so Jim can weigh in on the artwork while he's at Pensacon this weekend. The submissions we've received are INCREDIBLE, and we can't wait to share them with you and crown the winners.
Trailer Teaser
But today's big news? We have a premiere date and a sneak peek at some of the storyboards for the upcoming live-action book trailer for Peace Talks!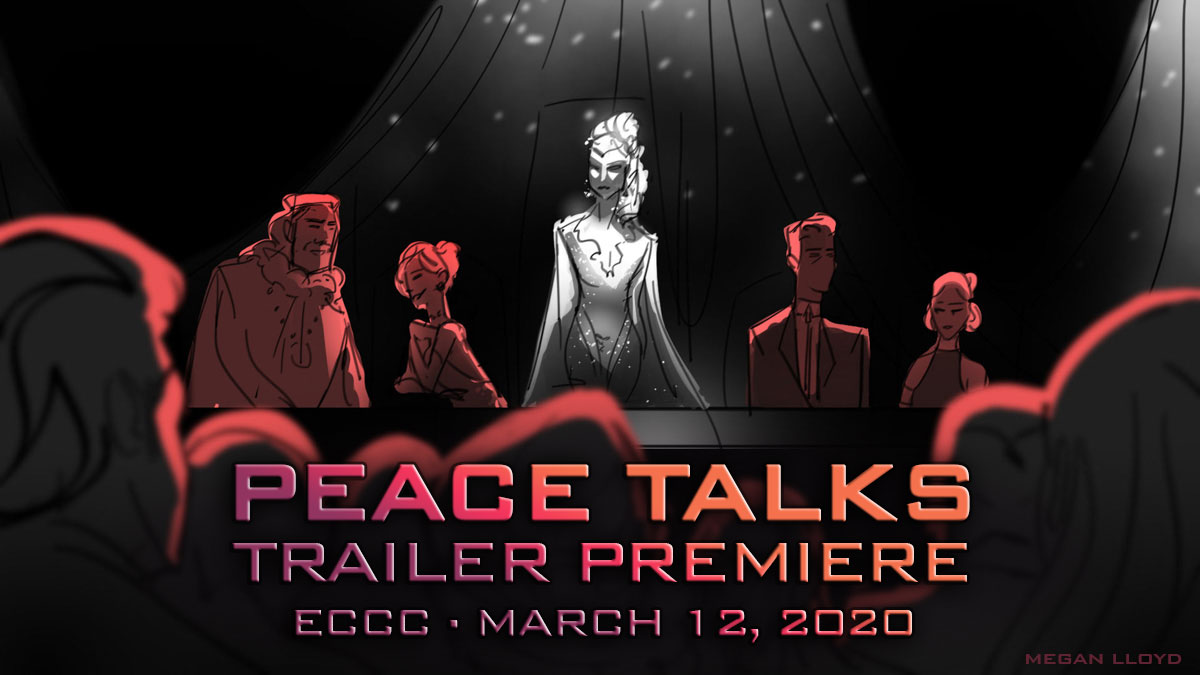 We're thrilled to announce that the trailer will premiere at the 20th Anniversary fan party at Emerald City Comic Con on Thursday, March 12th! Tickets to the party are long since sold out, but ECCC attendees can catch it again at a Q&A with Jim and director Priscilla Spencer on Sunday, March 15th. Full ECCC schedule coming soon.
As for the rest of the world, the trailer will hit the net early the following week! We're still working on nailing down the exact date.
To whet your appetite, here are a handful of our storyboards…
So who are all these people? What's going on? Let the speculation begin!
Megan Lloyd is a storyboard artist for Dreamworks TV. If you're a fan of Hamilton or Wicked and you haven't seen her fanmade animatics for "The World Was Wide Enough" or "Defying Gravity," you need to rectify that immediately. Find more of her art on tumblr!
---
Pensacon Prep
This week, Jim is headed off to Pensacon in Pensacola, Florida! Here's his schedule:
Friday, 2/28/20:
3:00 PM – 4:00 PM — Signing at booth E6/7-F6/7
6:00 PM – 7:00 PM — Signing at booth E6/7-F6/7
Saturday, 2/29/20:
Sunday, 3/1/20:
11:30 AM – 12:30 PM — Signing at booth E6/7-F6/7
2:00 PM – 3:00 PM — Signing at booth E6/7-F6/7
Hope to see you there!
---
Read-Along Reminder
The discussion of Death Masks continues apace at Goodreads! Join the Spoiler-Free or Spoiler-Friendly discussions.
Also, the Grave Peril ebook is still on sale for $1.99! Support independent bookstores by buying through Kobo (here's how to support your favorite local shop!) or Books-A-Million, or order from the following vendors: Amazon, Apple Books, Barnes and Noble, or Google Play. The sale runs through March 1st.
---
2020 is the 20th Anniversary of the Dresden Files! Be sure to visit Jim-Butcher.com every Tuesday this year for weekly Drops of never-before-seen artwork, microfiction, interviews, contests, sample chapters for Peace Talks, or other tasty tidbits in the Year of Dresden. Join our new mailing list and follow @jimbutchernews on twitter to ensure you don't miss a moment in our 20th Anniversary celebration, and check the announcement post to catch up on prior Drops. See you next week!