There's SO MUCH TO BE EXCITED ABOUT this week! Not only do we have the beginnings of Jim's schedule for this weekend's Virtual DragonCon, but we have TWO sample chapters from Battle Ground. Read on for all the details.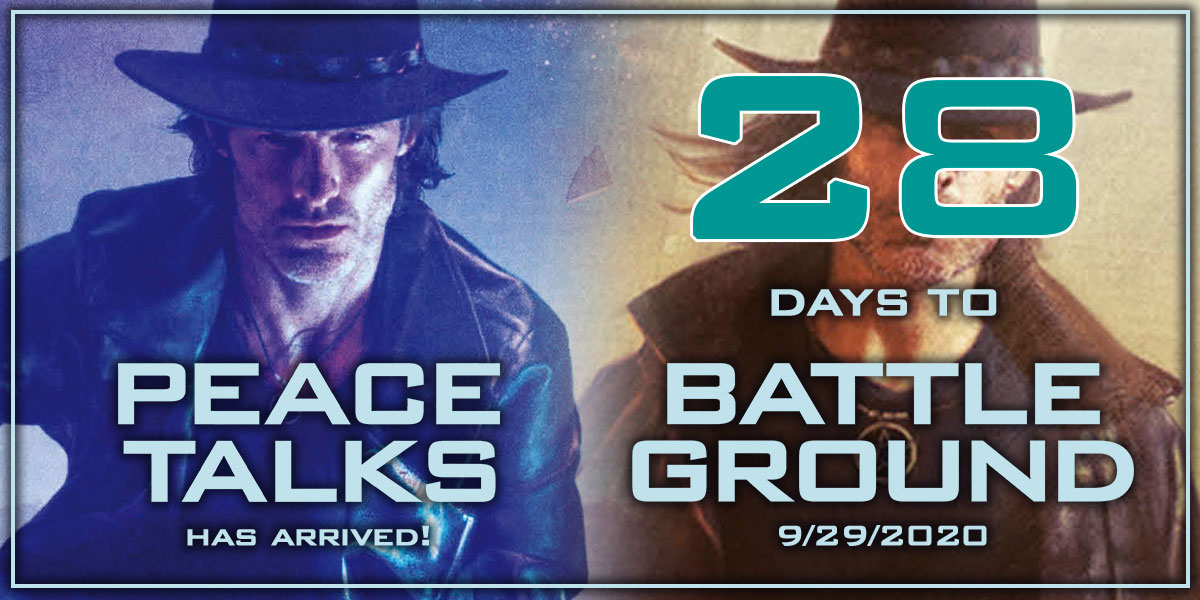 Four weeks to go until the apocalyptic conclusion this summer's epic Dresden Duology! Have you preordered your copy yet? You can order a signed copy from one of the vendors below, or you can also support your favorite local independent bookstore or preorder a regular copy through the Jim-Butcher.com Store! Or if audiobooks are your jam, snag James Marsters' reading from our store or through Jim's publisher.
Virtual DragonCon
We have Jim's schedule for DragonCon! Join us all weekend for a series of panels on a fabulous array of topics.
Jim's panels are broken up into two categories: (LIVE) and YouTube. Pay close attention each panel's designation! Panels marked (LIVE) stream for free on DragonCon's website only once at the appointed time, and you'll definitely want to catch them as they air. If you miss the livestream, you will need to purchase a DragonCon Streaming Membership for $10 to access those archives. Get the full details on page 4-5 of DragonCon's Quick Start handbook.
Panels NOT marked as (LIVE) will be uploaded to DragonCon's YouTube channels for free viewing at folks' convenience. The timestamp on this schedule indicates the time the video will be made public.
Necessary Evil: Villains in Urban Fantasy (LIVE)
Friday, September 4th, 2pm ET, UF Fan TracksLivestream
Villains in Urban Fantasy range from annoying to truly dangerous, and our panel of authors will discuss how the different types affect their characters and the plots of their stories.
Panelists: Carol Malcolm, Eric R. Asher, Jim Butcher, Faith Hunter, Jeanne C. Stein, R.R. Virdi.
Mighty Men of SF and Fantasy (LIVE)
Friday, September 4th, 4pm ET, Writing Fan Track Livestream
Kevin J. Anderson, Jim Butcher, and Jonathan Maberry talk about their careers–sometimes funny, sometimes poignant, but always interesting.
Panelists: Kevin Anderson, Jim Butcher, Jonathan Maberry, Nancy Knight.
Favors, Bargains, and Glamours: The Fae in Urban Fantasy
Saturday, September 5th, 10am ET, Urban Fantasy Track YouTube
Fae of many forms and intentions appear in Urban Fantasy. Our panelists will discuss the characteristics of the types they use in their work.
Panelists: Patricia Briggs, Jim Butcher, Cecilia Dominic, Lisa Manifold, Bishop O'Connell, and Carol Malcolm (M)
Jim Butcher: 20 Years of Harry Dresden (LIVE)
Monday, September 7th, 10am ET, Main Programming Livestream
Come spend an hour with the mind behind your favorite magical detective as he discusses the pending release of the new Dresden book, Battle Ground, to the things that inspired Jim along the way.
Panelists: Jim Butcher, Chris "Crispy" Lloyd (M)
The Dresden Files: Peace Talks Trailer Cast and Crew Panel
Monday, September 7th, 11:30am ET, Urban Fantasy Track YouTube
Join Jim Butcher, director Priscilla Spencer, and the cast and crew of the Peace Talks Trailer as they recount their experiences on this epic-level undertaking! Suzanne Solomon moderates a hilarious discussion that explores the challenges of filming a book trailer for a fanatically devoted fanbase, which actors are most like their characters, what Easter eggs are hidden in the production design, and more! We'll also be sharing previously unseen material you won't want to miss.
Panelists: Jason Bernardo, Jim Butcher, June Dietrich, Liz Fenning, Sarah Flannery, Stephen Gibler, Kitty Krell, Birgit Lüdemann, Wade Morrison, Tonya Nelson, Stephanie Piotrowski, Jeremy Royce, Christopher Showerman, Shelby Smith, Priscilla Spencer, Kris Stone, and Suzanne Solomon (M).
Sample Chapters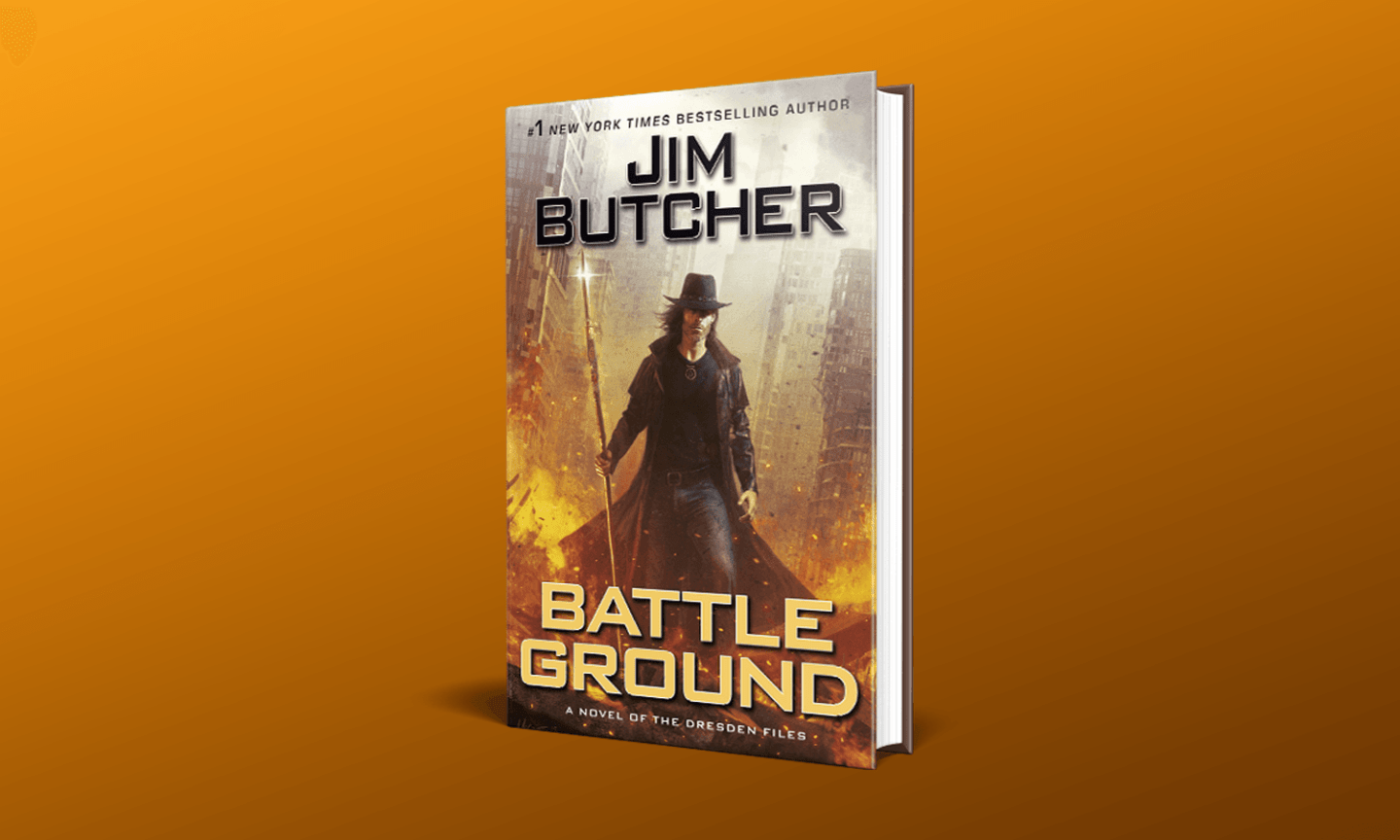 Read Chapters 1 and 2 exclusively at Tor! You won't want to miss these. They're all the fandom is going to be able to talk about until the book comes out. Or until we post Chapter 3 in a future Drop.
Is "deranged cackling" an appropriate sentiment for a news post? Asking for a friend who is an author.
Signed Books and Battle Ground Tour
Later this month, join Jim for a trio of live Q&As, two of which are free for everyone to enjoy. You can also preorder signed copies of Battle Ground. Act quickly, as many vendors' signed copies of Peace Talks went FAST!
Copies ordered through Mysterious Galaxy, Barbara's Bookstore, and B&N will be signed books. Copies ordered through Worldbuilders will be a standard hardcover with a signed bookplate.
MYSTERIOUS GALAXY: 9/28, 9:00pm* ET
Virtual Q&A via Zoom, moderated by Mysterious Galaxy Events Director Constance Summar. Ticketed event: Buy 1 signed copy of Battle Ground OR a $5 ticket.
*Note: We're double-checking this information, as 9PM Eastern is obviously not the same time at 7PM Pacific. We'll update this post with a clarification and re-confirm the correct time in a future Drop!
BARBARA'S BOOKSTORE CHICAGO: 9/29, 7:00pm CT
FREE Virtual Q&A via Crowdcast, moderated by Dresden Files creative consultant and Peace Talks trailer director Priscilla Spencer. Signed copies available for purchase.
BARNES & NOBLE: 9/30, 7:00pm ET
FREE Virtual Q&A Zoom & Facebook, moderated by Jim's editor Anne Sowards. Signed copies available for purchase.
WORLDBUILDERS
We haven't been given dates or times for any potential Q&As, but you can preorder a copy of Battle Ground with a signed bookplate!
---
And that's this week's entry! Visit Jim-Butcher.com every Tuesday this year for weekly Drops of never-before-seen artwork, microfiction, interviews, contests, sample chapters for Peace Talks and Battle Ground, or other tasty tidbits in our celebration of the 20th Anniversary of the Dresden Files. Join our new mailing list and follow @jimbutchernews on twitter to ensure you don't miss a moment, and check the announcement post to catch up on prior Drops.