HECK YES! This week's Drop is the explosive new book trailer for Battle Ground, which debuted yesterday at Virtual DragonCon. We also have a roundup of Jim's other panels from the con, for all your fannish needs. Let's dive in, starting with the splashiest of this weekend's surprises!
This book trailer was filmed back in December, concurrently with the trailer for Peace Talks. It was directed by Priscilla Spencer and stars Jason Bernardo as Harry, Sarah Flannery as Murphy, June Dietrich as Ethniu, Liz Fenning as Mab, and Chris Showerman as Marcone.
And after you've watched that, check out DragonCon's Virtual Cast and Crew Panel for both trailers!
The Dresden Files: Peace Talks Trailer Cast and Crew Panel
Join Jim Butcher, director Priscilla Spencer, and the cast and crew of the Peace Talks Trailer as they recount their experiences on this epic-level undertaking! Suzanne Solomon moderates a hilarious discussion that explores the challenges of filming a book trailer for a fanatically devoted fanbase, which actors are most like their characters, what Easter eggs are hidden in the production design, and more! We'll also be sharing previously unseen material you won't want to miss.
Panelists: Jason Bernardo, Jim Butcher, June Dietrich, Liz Fenning, Sarah Flannery, Stephen Gibler, Kitty Krell, Birgit Lüdemann, Wade Morrison, Tonya Nelson, Stephanie Piotrowski, Jeremy Royce, Christopher Showerman, Shelby Smith, Priscilla Spencer, Kris Stone, and Suzanne Solomon (M).
The other free panel from DragonCon is this multi-author discussion of the Fae in Urban Fantasy.
Favors, Bargains, and Glamours: The Fae in Urban Fantasy
Fae of many forms and intentions appear in Urban Fantasy. Our panelists will discuss the characteristics of the types they use in their work.
Panelists: Patricia Briggs, Jim Butcher, Cecilia Dominic, Lisa Manifold, Bishop O'Connell, and Carol Malcolm (M)
Jim's other three panels will be posted in about a week, so we'll link to those in a future Drop. They will require a DragonCon Streaming Membership, a one-time purchase of $10 that grants access to DragonCon's vast archive of exclusive content for one year.
---
Dresden Jewelry Giveaway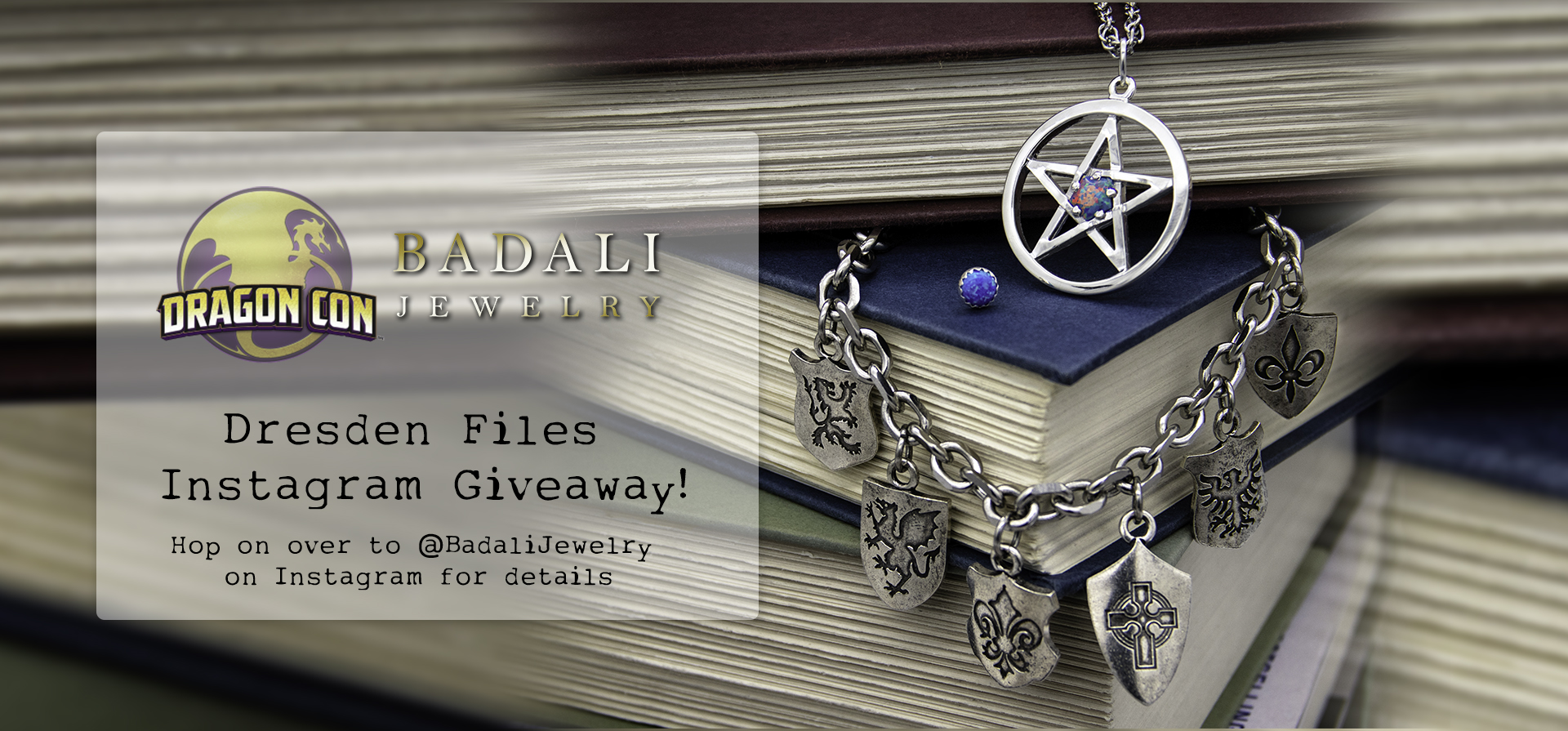 In honor of DragonCon, Badali Jewelry is holding a giveaway of some of their most coveted Dresden pieces! One lucky winner will score a collector's set of Dresden Files Jewelry, consisting of an Officially Licensed sterling silver Shield Bracelet, an 8mm Ice Opal Earring (your choice of pierced or magnet), and a Limited Edition Winter Lady Pentacle.

How to Enter:
1. FOLLOW @BadaliJewelry on Instagram.
2. LIKE the original Giveaway post.
3. COMMENT your favorite Dresden Files character on the instagram post.
Bonus entry:
TAG up to two (2) friends who you think would be interested in joining in!
Shop Badali's full Dresden Files collection on their website! This giveaway runs through September 16th.
---
Countdown to Battle Ground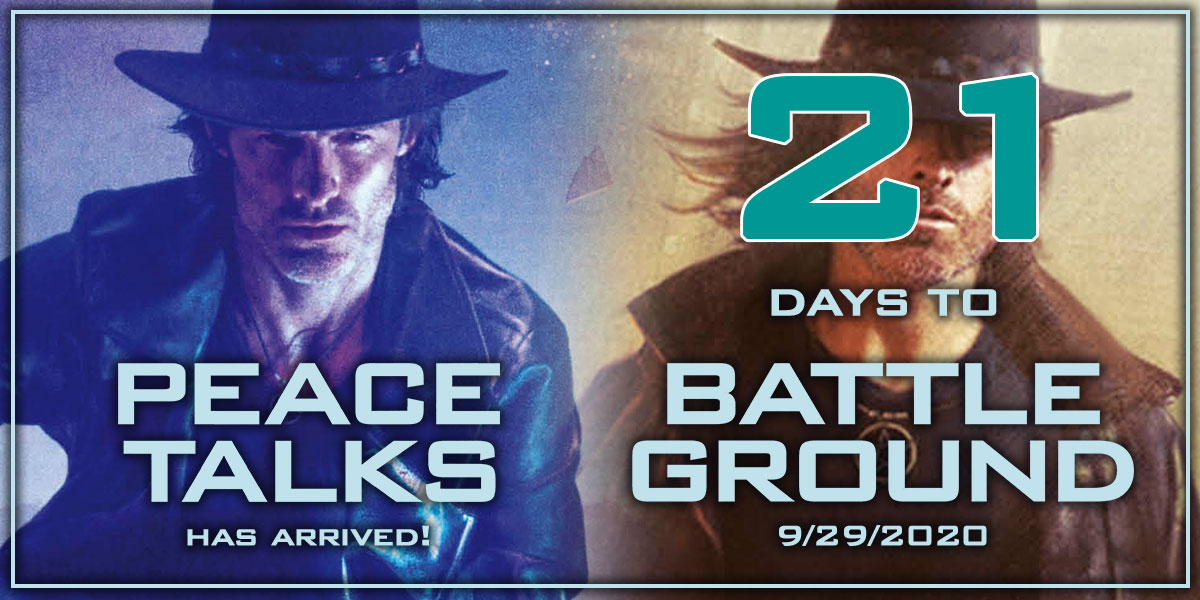 Three weeks to go until the apocalyptic conclusion of this summer's epic Dresden Duology. If you missed it last week, you can check out the first two chapters at Tor.com!
Have you preordered Battle Ground yet? Support your favorite local independent bookstore, preorder it in hardcover, audio, or ebook through the Jim-Butcher.com Store, or order a signed copy from one of the Signing Tour hosts below:
MYSTERIOUS GALAXY: 9/28, 9:00pm* ET
Virtual Q&A via Zoom, moderated by Mysterious Galaxy Events Director Constance Summar. Ticketed event: Buy 1 signed copy of Battle Ground OR a $5 ticket.
*Note: We're double-checking this information, as 9PM Eastern is obviously not the same time at 7PM Pacific. We'll update this post with a clarification and re-confirm the correct time in a future Drop!
BARBARA'S BOOKSTORE CHICAGO: 9/29, 7:00pm CT
FREE Virtual Q&A via Crowdcast, moderated by Dresden Files creative consultant and Peace Talks trailer director Priscilla Spencer. Signed copies available for purchase.
BARNES & NOBLE: 9/30, 7:00pm ET
FREE Virtual Q&A Zoom & Facebook, moderated by Jim's editor Anne Sowards. Signed copies available for purchase.
WORLDBUILDERS
We haven't been given dates or times for any potential Q&As, but you can preorder a copy of Battle Ground with a signed bookplate!
---
And that's this week's entry! Visit Jim-Butcher.com every Tuesday this year for weekly Drops of never-before-seen artwork, microfiction, interviews, contests, sample chapters for Peace Talks and Battle Ground, or other tasty tidbits in our celebration of the 20th Anniversary of the Dresden Files. Join our new mailing list and follow @jimbutchernews on twitter to ensure you don't miss a moment, and check the announcement post to catch up on prior Drops.