A quick note before we get into the meat (har!) of this week's post: Peace Talks has made it into the FINAL ROUND of the Goodreads Choice Awards!

Folks have until November 30th to cast their ballots. Regardless of whether you voted in the prior rounds, this is a fresh slate and you can vote again. Check out all the excellent nominees and make your voice heard!
---
We know many of our American readers will either not be celebrating Thanksgiving this year or doing so in a more limited way for the safety of their loved ones. With that in mind, we thought we'd fill that culinary void by sharing some fun and delicious Dresden-inspired recipes! And don't forget to submit your microfictions and photos of any Dresden tattoos. Details below the feature.
Dresdenverse Dining

Need a new quarantine challenge? Recreate some of your favorite dishes from Mac's and other parts of Harry's Chicago in the (increasingly stir-crazy) comfort of your own home! Catherine Barson Eastis of The Gluttonous Geek has you covered.
Check out the Dresden dishes on her website, including the debut of a new addition to her Dresden recipe collection, then read our interview with Catherine below!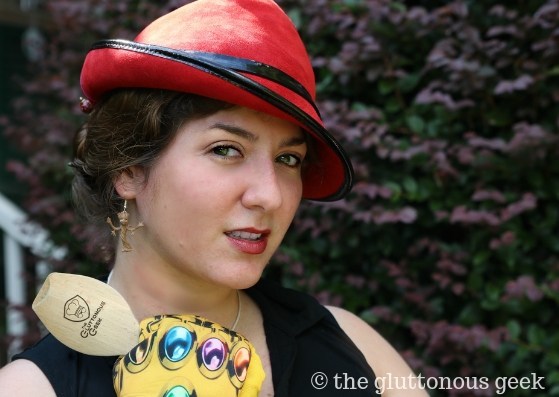 Priscilla: What inspired you to start creating recipes for fictional worlds, and how long have you been at it?  What was your first dish?
Catherine: I had been playing in the kitchen since I've had access to the one in my ex-boyfriend's apartment back in 2009. It was during the recession and we were both underemployed, so I had to get creative with whatever we had in the pantry or freezer. Funnily enough, he and his friends were also the same folks who introduced me to the Dresden Files. Technically my first geeky recipe was when I made a bourbon chocolate cake and decorated it (badly) to look like the Tardis for one of our friend's birthdays. 
Starting six years ago, though, my curiosity reignited when I received A Feast of Ice & Fire, the Official Game of Thrones Cookbook, as a wedding present. Between playing with that, creating my own recipes for our own last-minute premiere feast, competing in local geek bar Battle & Brew's cookie competitions, and creating recipes for my geek fashion blogger (The Lady Nerd) roommate's "Dinner and a Movie" segment I was hooked. 
The ideas would not stop flowing, and my English major brain could not stop translating story analysis into food. So I did it. I started the blog in May 2015 and premiered with recipes for Borsht and Ratatouille inspired by Red from Orange Is the New Black. I've learned a lot since I started with a crappy point-and-shoot camera and an inflated sense of arrogance. I'm honored that ya'll have stuck around with me on this journey as I've worked to develop my art and my role as an artist.
Three of the items used to summon Molly in Peace Talks are Nutella, a Ring Pop, and Dr. Pepper. What food items could Harry use to summon you?
Single malt Islay Scotch whisky, white cheddar or blue cheese, cured meat, shiitake mushrooms, yellowtail sashimi, rosemary flavored anything, and Spaghetti-os. Honestly, though? Putting out a charcuterie board at a party will summon me faster than Toot-Toot on a deep-dish. The Denarians could probably win me over with some really good cheese. 
Which of your Dresden dishes was your favorite to create, and which would you most encourage fans to try?
My two favorite to develop were the Kringle Cookies and the Bob the Chocolate Skulls because they just felt snarky and fun — they were probably my least favorite to craft because making anything cold ingredient-based in the South is a nightmare. Curse my warm hands! 
My favorite to cook was the Red King Conchinita Pibil because I can just set it to slow roast while leisurely making the mango salsa and sipping margaritas. As far as what to try? Well, that depends on your level of experience and patience.
Beginners would probably enjoy my Darkhallow Beef Roast with Pumpkin-Hazelnut Oatcakes. They're stupidly easy to make and great for the coming Cold Days. The Summer Lemonade is as easy as boiling water. Intermediate cooks would like both versions of the Steak Sandwiches and the Wild Hunter's Pie. Anyone with patience will love both my deep-dish and thin-crust pizzas. Lasciel's Baklava is also magical if you use her themed tea (Temptress from Dryad Tea), but takes some patience if you're not used to working with phyllo dough.
Are there any Dresden dishes you'd like to tackle in the future?
Last year I went to Chicago to go to all the places and eat all the things I could associate with The Dresden Files. A week was not nearly enough time to sample the diversity this city has to offer! It also taught me that this series's main character is not just Dresden. It's also Chicago. The tensions and relations we see between the human and supernatural communities are in some ways similar to the city's real history of immigrant and racial communities. Their presence, though, makes a city like Chicago and a series like The Dresden Files all that more unique.
With that, I want to figure out some more ways to incorporate these influences while remaining respectful to the culture they originate from. This recipe for Red King Conchinita Pibil was an example of that since the Yucatan peninsula's cuisine (where Chichen Itza is located) has its own distinguished elements within Mexican cuisine. Then, of course, I want to tackle some more Chicago favorites like soft pretzels and Southside-style fried chicken. I already have ideas for the donuts with sprinkles. 
I've been working on developing a couple of Hog's Hollow recipes inspired by Ebenezer McCoy. My experiment with a BBQ rub, sauce, and pork ribs based on Scottish flavors paired with Memphis and Kansas City style BBQ worked out really well. Admittedly my re-read of the series is taking longer than expected, which is why I have been slow to release more DF recipes. Like my redux of the famous steak sandwich, I want to get things right.
And finally, which Pokemon do you think would be most delicious?
It's funny you mention that since my fandom food blogger friends and I have explored that question on many occasions. 
In my experience, Farfetch'd is delectable seared with slices of its green onion and served with a plum wine sauce thickened with a roux of its own fat. Torchics are excellent stuffed with cheese and deep-fried Nanban-style. And finally, Paras legs are delightful steamed in sake or chopped up over mushroom biscuits and topped with a poached egg and hollandaise sauce.
…
Thanks so much to Catherine for sharing her recipes! Check out her website for a collection of delectable dishes from all across her favorite fandoms. And now, Priscilla is really craving some of that cochinita pibil she fell in love with on a trip to the Yucatan in 2016. Craving like… hmm. She should probably make some before this gets out of hand… (Featured: Badali Jewelry's original prototype Harry Dresden Ruby Pentacle, because Priscilla is just that nerdy. Unedited digital infrared image.)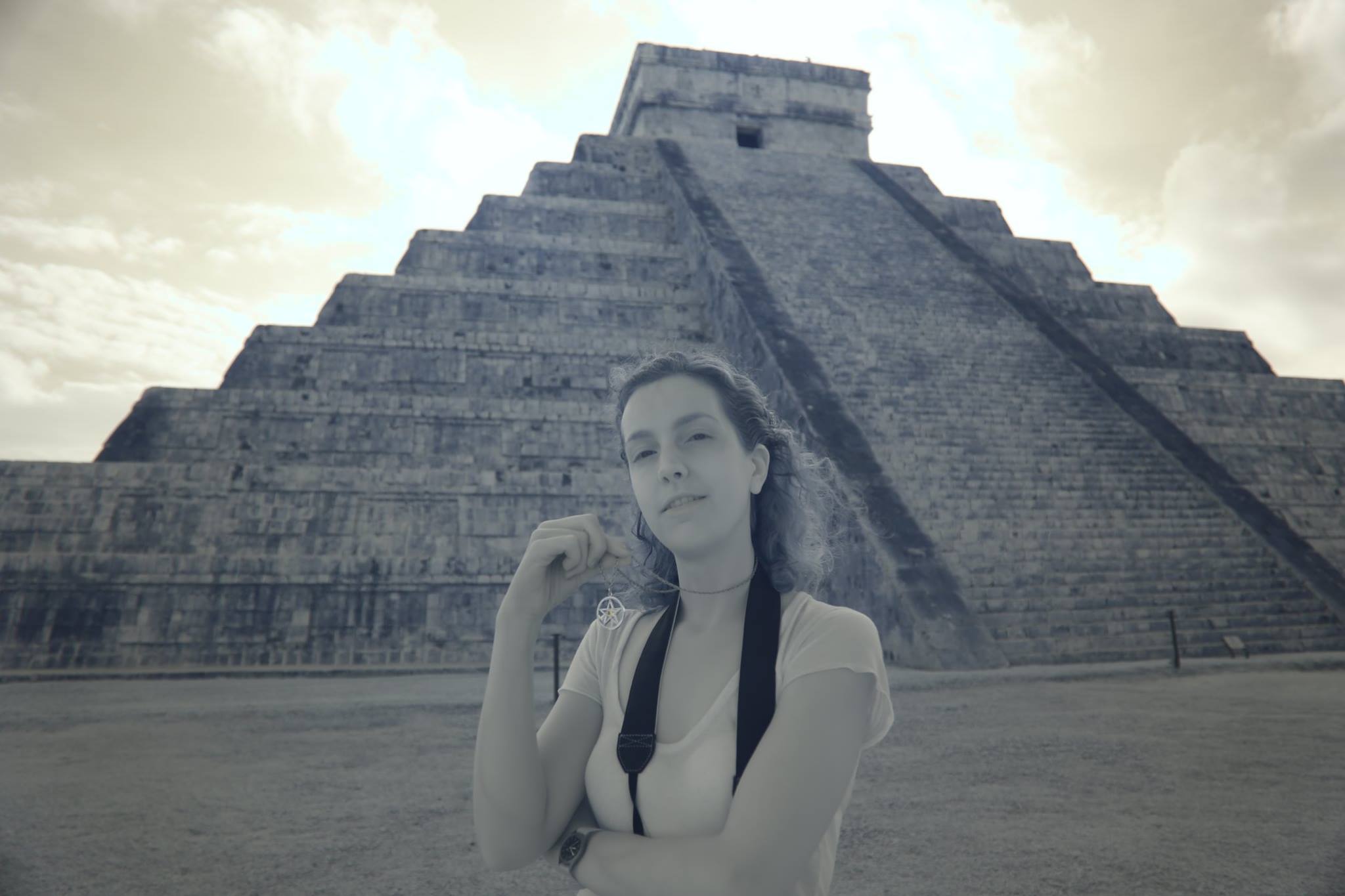 ---
Reminder: Show Us Your Tattoos
We've seen some absolutely STUNNING Dresden tattoos lately, and we'd love to include a compilation in an upcoming Drop. If you have any Butcher-inspired ink you'd like to show off, send your photos to yearofdresden (at) gmail.com by Sunday, November 22nd.
Please include your name, your artist's name, a link to where folks can contact the artist or find more of their work, and what pronouns we should use for both of you.
---
Reminder: Microfiction Contest
ONE MORE WEEK in our Microfiction Contest! Submit your own microfictions (<1500 words) based on the following prompt:  Write about either a birthday OR a holiday in the Dresdenverse. Submit entries to yearofdresden(at)gmail.com by November 24th.
Read the full rules in our Double Birthday Spectacular post under the "It's My Birthday Too" subheading. Three winners (one grand prize and two runners-up) will receive their choice of a Mika Kuloda Art Print from Worldbuilders!
---
And that's it for this week! Visit Jim-Butcher.com every Tuesday this year for weekly Drops of never-before-seen artwork, microfiction, interviews, contests, sample chapters for Peace Talks and Battle Ground, and other tasty tidbits in our celebration of the 20th Anniversary of the Dresden Files. Join our new mailing list and follow @jimbutchernews on twitter to ensure you don't miss a moment, and check the announcement post to catch up on prior Drops.
Still need a copy of Peace Talks, Battle Ground, or anything else by Jim? Support your favorite local independent bookstore, or order in print, audio, or ebook through the Jim-Butcher.com Store. We believe you can grab a signed copy of Battle Ground from Mysterious Galaxy and Barbara's Bookstore (though we STRONGLY RECOMMEND confirming availability of signed stock before placing your order at either place) or a book with a signed bookplate from Worldbuilders.