In this week's Dresden Drop, we catch up on Adam Mathison-Sward's delightful Paranet Pals fan comic!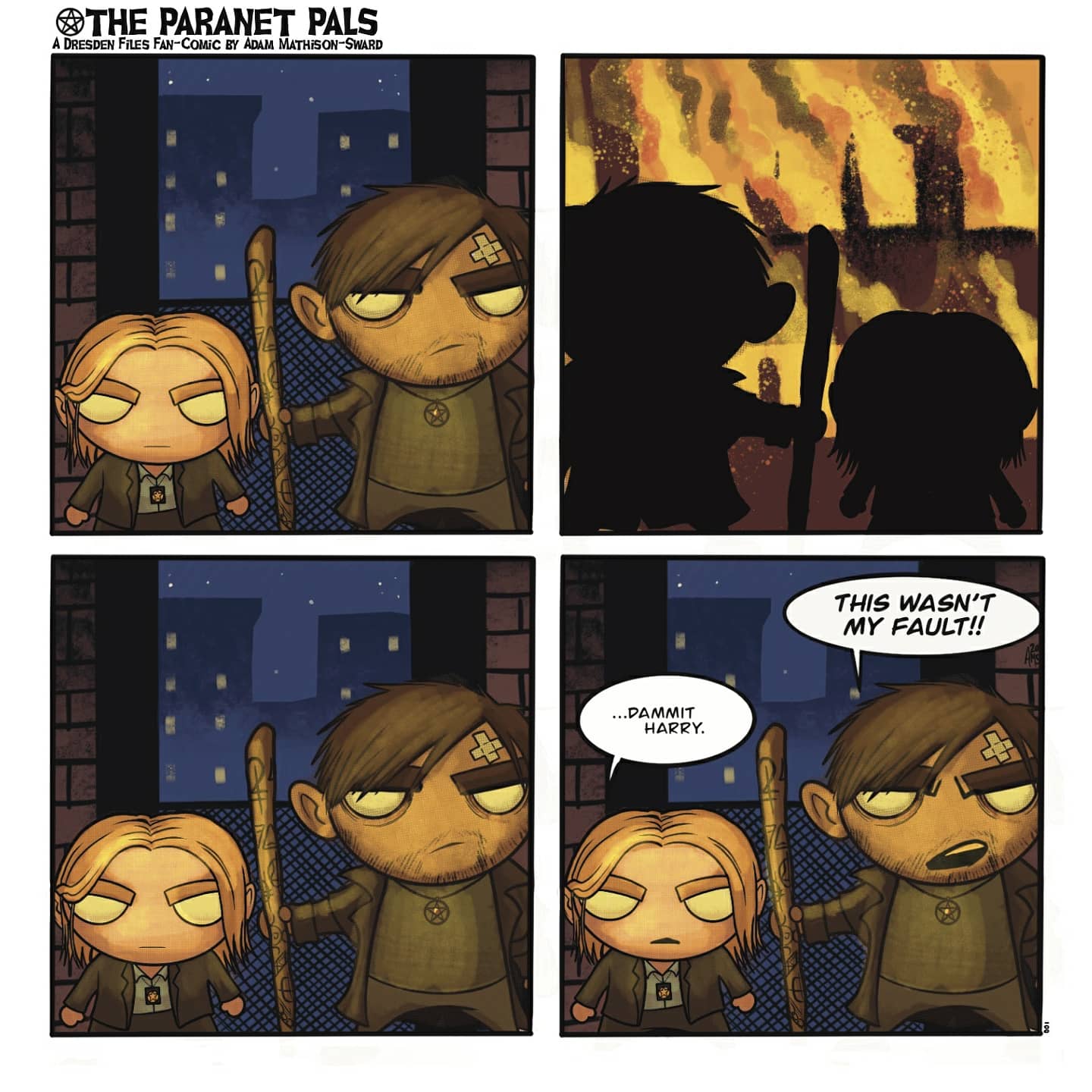 But before we dive in, we have a couple pressing reminders and one exciting announcement:
Love for Battle Ground
Congratulations, Jim! Battle Ground has been named one of Amazon's Best Science Fiction and Fantasy novels of 2020. Check out the full list. It makes for a fantastic holiday buying guide for all the SFF lovers in your life. Congrats as well to all the other authors who made the cut!

---
Microfiction Contest Ends TONIGHT
Today is the LAST DAY to submit to the microfiction contest! We gave our fans this prompt: Write about either a birthday OR a holiday in the Dresdenverse. You have until midnight Pacific tonight to enter your <1500 word ficlet to yearofdresden(at)gmail.com.
Read the full rules in our Double Birthday Spectacular post under the "It's My Birthday Too" subheading. Three winners (one grand prize and two runners-up) will receive their choice of a Mika Kuloda Art Print from Worldbuilders!
---
Final Round in the Goodreads Choice Awards
Peace Talks has made it into the FINAL ROUND of the Goodreads Choice Awards!

Folks have until November 30th to cast their ballots. Regardless of whether you voted in the prior rounds, this is a fresh slate and you can vote again. Check out all the excellent nominees in all categories and make your voice heard!
---
And now, today's featured treat:
Palling with the Paranet
For the last several weeks, illustrator Adam Mathison-Sward has been creating a delightfully silly fan webcomic called The Paranet Pals.
Follow Adam on twitter or instagram for more. New installments every Sunday!
---
And that's it for this week! Visit Jim-Butcher.com every Tuesday this year for weekly Drops of never-before-seen artwork, microfiction, interviews, contests, sample chapters for Peace Talks and Battle Ground, and other tasty tidbits in our celebration of the 20th Anniversary of the Dresden Files. Join our new mailing list and follow @jimbutchernews on twitter to ensure you don't miss a moment, and check the announcement post to catch up on prior Drops.
Still need a copy of Peace Talks, Battle Ground, or anything else by Jim? Support your favorite local independent bookstore, or order in print, audio, or ebook through the Jim-Butcher.com Store. We believe you may still be able to grab a signed copy of Battle Ground from Mysterious Galaxy and Barbara's Bookstore (though we STRONGLY RECOMMEND confirming availability of signed stock before placing your order at either place) or a book with a signed bookplate from Worldbuilders.