Before we dive into this week's main feature, we'd like to start with a link to Jim's interview with The Dresden Files Podcast! The hosts cut right to the chase, asking original, detail-oriented questions that provoked fresh, intriguing, and at times astounding responses from Jim.
It doesn't appear to have been transcribed yet, but folks are discussing the new bombshells here. Also, for folks who rely on transcripts, you can now enjoy a writeup of Jim's appearance on the Legendarium Podcast a few weeks ago.
---
And now, the main event!
The holidays are fast approaching, but there's still time to get Jim-inspired goodies for the fantasy fan in your life. In this week's Dresden Drop, we'd like to spotlight some of the small businesses and artists producing officially licensed Butcherverse goodness, including some brand new pieces!
Badali Jewelry
This family-owned and operated small business has been creating officially-licensed, handcrafted jewelry for fantasy book series for over twenty years. Their line of Dresden Files pieces includes Harry's shield bracelet, force ring, and pentacle (with optional ruby), plus other fabulous series goodies, like necklaces featuring Bob the Skull and Lasciel and Nicodemus' coins.

They also feature lines for some of your favorite other series, including works by Brandon Sanderson, V.E. Schwab, JRR Tolkien, Patrick Rothfuss, Pierce Brown, Gail Carriger, and now Christopher Paolini.
And just in time for winter, they're bringing back a limited run of the much-coveted Winter Lady Pentacle Variant AND announcing a new piece! The Bob necklace is now available in three color ways: two orange for Good Bob, two blue for Evil Bob, or one of each.

And it gets better: For Jim's fans, they're offering 15% off all orders sitewide with the promo code FUEGO15. Order by December 9th for Priority Shipping or December 14th for Overnight.
---
Worldbuilders Market

Worldbuilders Market is a geek-centered nonprofit supporting humanitarian efforts worldwide. They carry a variety of awesome geeky merchandise from a wide range of creators from across the fantasy, science-fiction, and gaming community. Every purchase helps support their mission: to unite the geek community into a massive force to fund education, opportunity, and sustainable self-sufficiency for families and communities worldwide. You can jump directly to their Dresden line to snag posters, enamel pins, t-shirts, and even cell phone cases!
Other creators with fantastic merch at Worldbuilders include Mary Robinette Kowal, Kelly Sue DeConnick, Patrick Rothfuss, Kevin Hearne, N.K. Jemisin, Neil Gaiman, and Seanan McGuire. And don't miss their legendary end-of year fundraising drive, including streaming events, auctions, prize draws, and more!
---
Evil Hat Productions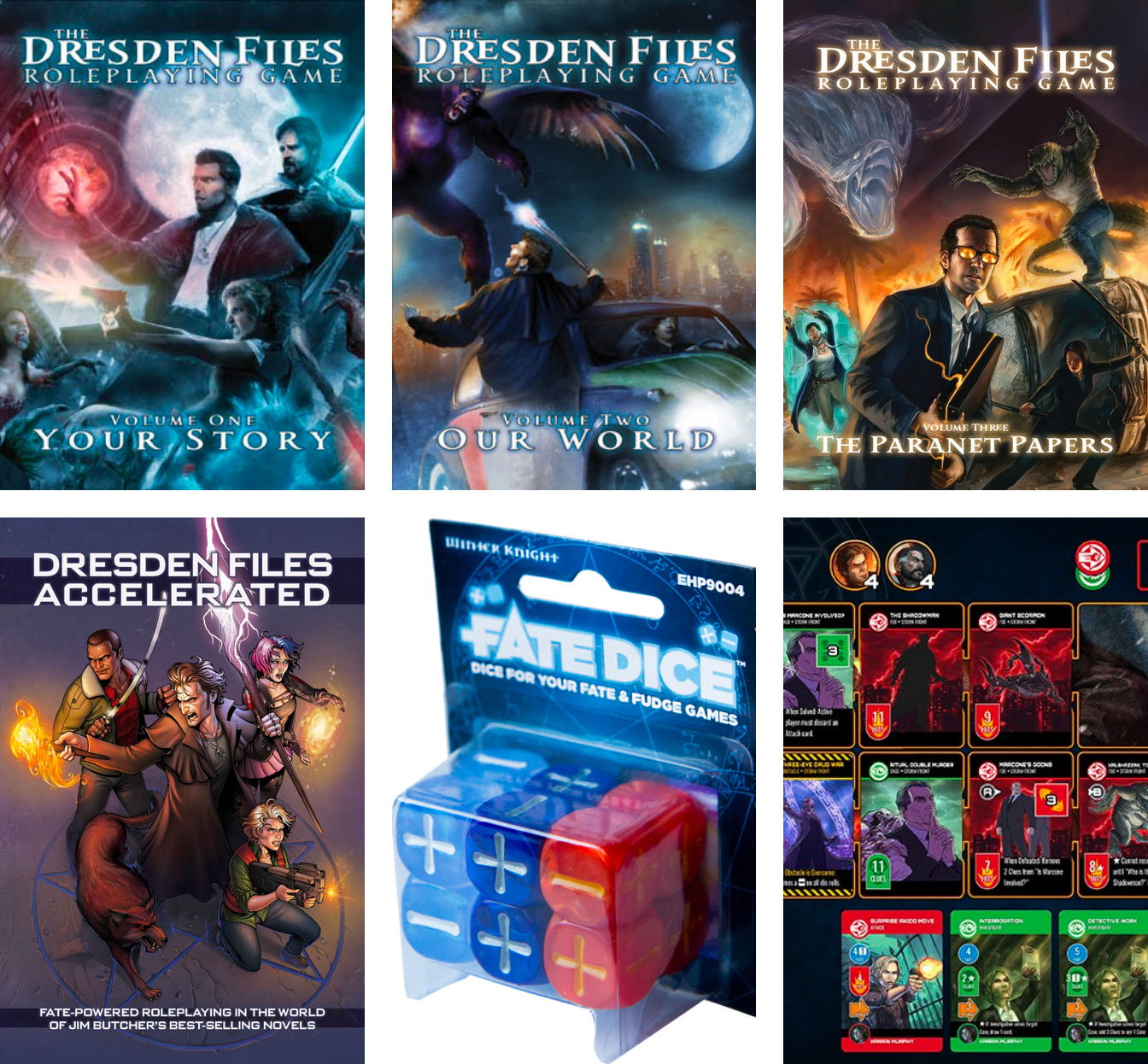 This independent gaming company believes passion makes great games, and fans agree: The Dresden Files RPGs swept the ENnies and won the Golden Geek and Origins Awards for Best Roleplaying Game of the Year. They also sell Dresden-themed FATE dice, because… dice. Dice, man. Dice need no explanation.
You can also tackle the surprisingly challenging Dresden Files Cooperative Card Game in physical or digital forms. The electronic edition, published by Hidden Achievement, is available for iOS, Android, Steam, and the Nintendo Switch, and can accommodate solo play, multiplayer in person, and multiplayer remote for all your social distancing needs.
---
Art Posters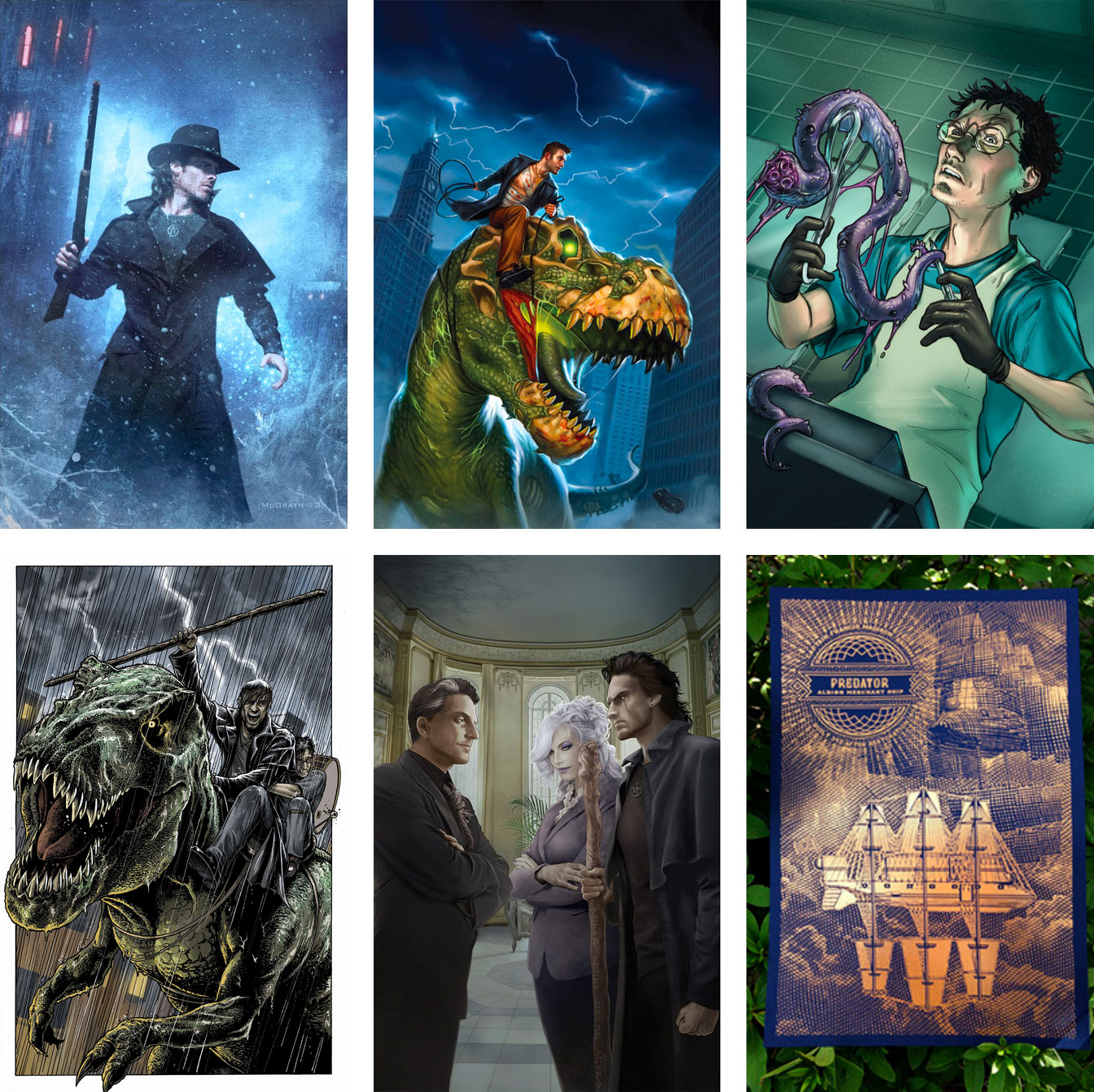 Several official series artists are selling prints of their Butcherverse illustrations:
Chris McGrath defined the look of the Dresden Files, illustrating the main series hardcovers.
Dan Dos Santos created the covers for the Sci-Fi Book Club Omnibus Editions, including the fan-favorite illustration of Harry riding Sue into battle.
Tyler Walpole illustrated the Dresden Files Cooperative Card Game and provided additional imagery to the Dresden Accelerated RPG.
Adam Mathison-Sward illustrated the bookplates that accompanied Worldbuilders' copies of Battle Ground.
Mika Kuloda provided artwork for the canceled LARP project Dresden Lives, but her images have since been repurposed as official merch for Worldbuilders.
Priscilla Spencer created the maps for Jim's Codex Alera and Cinder Spires series. The Cinder Spires prints are particularly stunning, embossed in copper foil.
---
Bookshop.org
Bookshop.org is an online retailer with a mission to financially support local, independent bookstores. We wholeheartedly encourage folks to buy through them whenever possible! Check out our online storefront.
Because we know a lot of you are all caught up on Jim's recent releases, Jim-Butcher.com site administrators Priscilla and Fred have created a list with a handful of our favorite books they read in 2020. Note that their deadline for priority shipping/UPS delivery by Christmas is December 16th.
---
And that's it for this week! Visit Jim-Butcher.com every Tuesday this year for weekly Drops of never-before-seen artwork, microfiction, interviews, contests, sample chapters for Peace Talks and Battle Ground, and other tasty tidbits in our celebration of the 20th Anniversary of the Dresden Files. Join our new mailing list and follow @jimbutchernews on twitter to ensure you don't miss a moment, and check the announcement post to catch up on prior Drops.
Still need a copy of Peace Talks, Battle Ground, or anything else by Jim? Support your favorite local independent bookstore, or order in print, audio, or ebook through the Jim-Butcher.com Store. We believe you may still be able to grab a signed copy of Battle Ground from Mysterious Galaxy and Barbara's Bookstore (though we STRONGLY RECOMMEND confirming availability of signed stock before placing your order at either place) or a book with a signed bookplate from Worldbuilders.