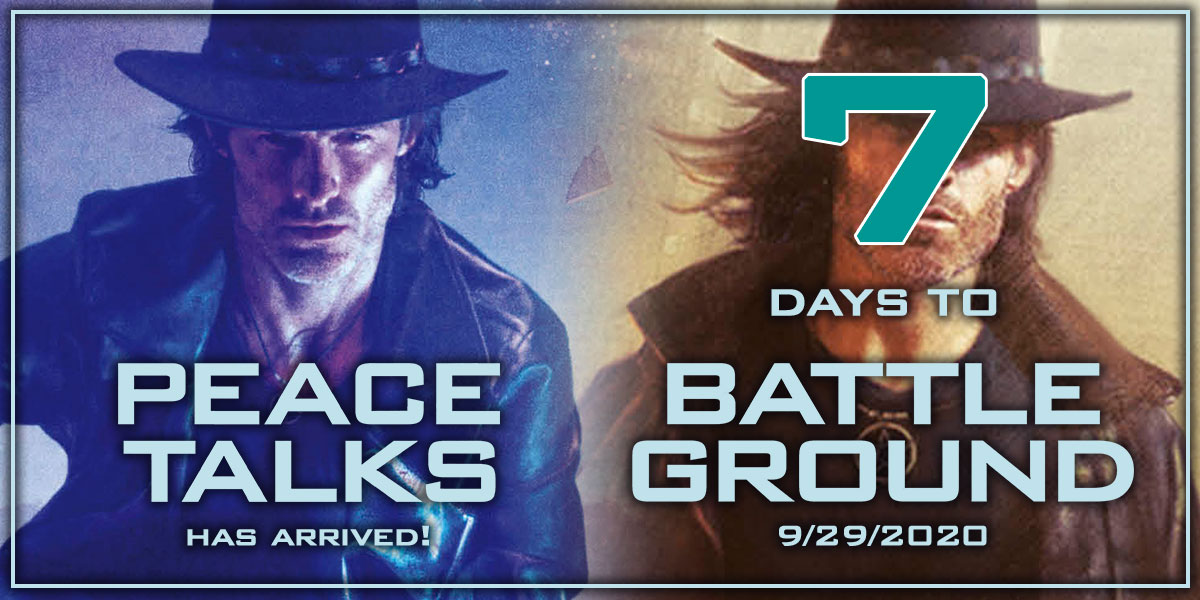 ONE WEEK remains until the conclusion of this summer's Dresden Duology, and we have a slew of tantalizing treats to get you suitably psyched! Check out the reveal of the Worldbuilders bookplate, visual transcripts and behind-the-scenes images from the Battle Ground trailer, and the announcement of a new illustrated version of Storm Front!
Still need to snag a copy of Battle Ground? Support your favorite local independent bookstore, preorder a regular copy through the Jim-Butcher.com Store, or order from one of our virtual signing partners in the section below. Or if you'd rather immerse yourself in the dulcet decadence of James Marsters' performance, snag the audiobook from our store or through Jim's publisher.
---
Worldbuilders Bookplate Reveal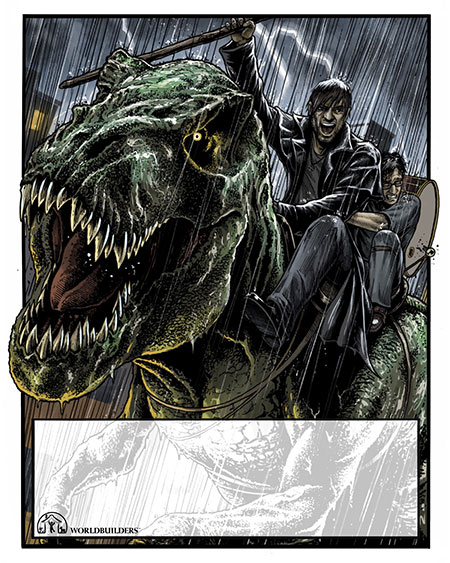 The team at Worldbuilders is proud to reveal Adam Mathison-Sward's exhilarating bookplate art, featuring Harry and Butters' climactic polka-powered ride from Dead Beat! Preorder a copy of Battle Ground with a signed bookplate and enjoy Adam's fabulous artwork while supporting worthy charities. You can also shop the rest of Worldbuilders' Dresden collection.
---
Announcing An Illustrated Storm Front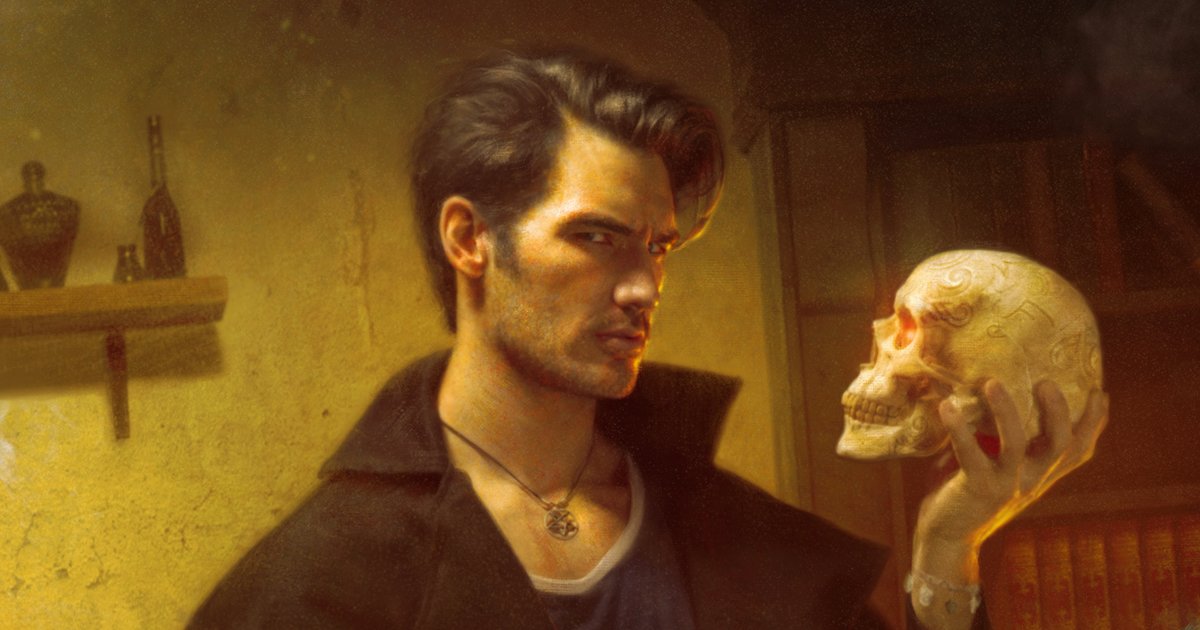 Shawn Speakman of Grim Oak Press has unveiled a full-color deluxe edition of Storm Front, lavishly illustrated by Chris McGrath!
Preorders now through the end of September are open ONLY to fans who own the limited or lettered editions of Shadowed Souls. Orders will open to the general public starting October 1st at 11am PT. And international fans rejoice: this is available worldwide!
---
Virtual Events & Preorderpalooza
Starting Monday the 28th, we have a week of fabulous virtual Q&A events, including opportunities to order signed copies of Battle Ground! (These are actual signed copies, not copies with signed bookplates.)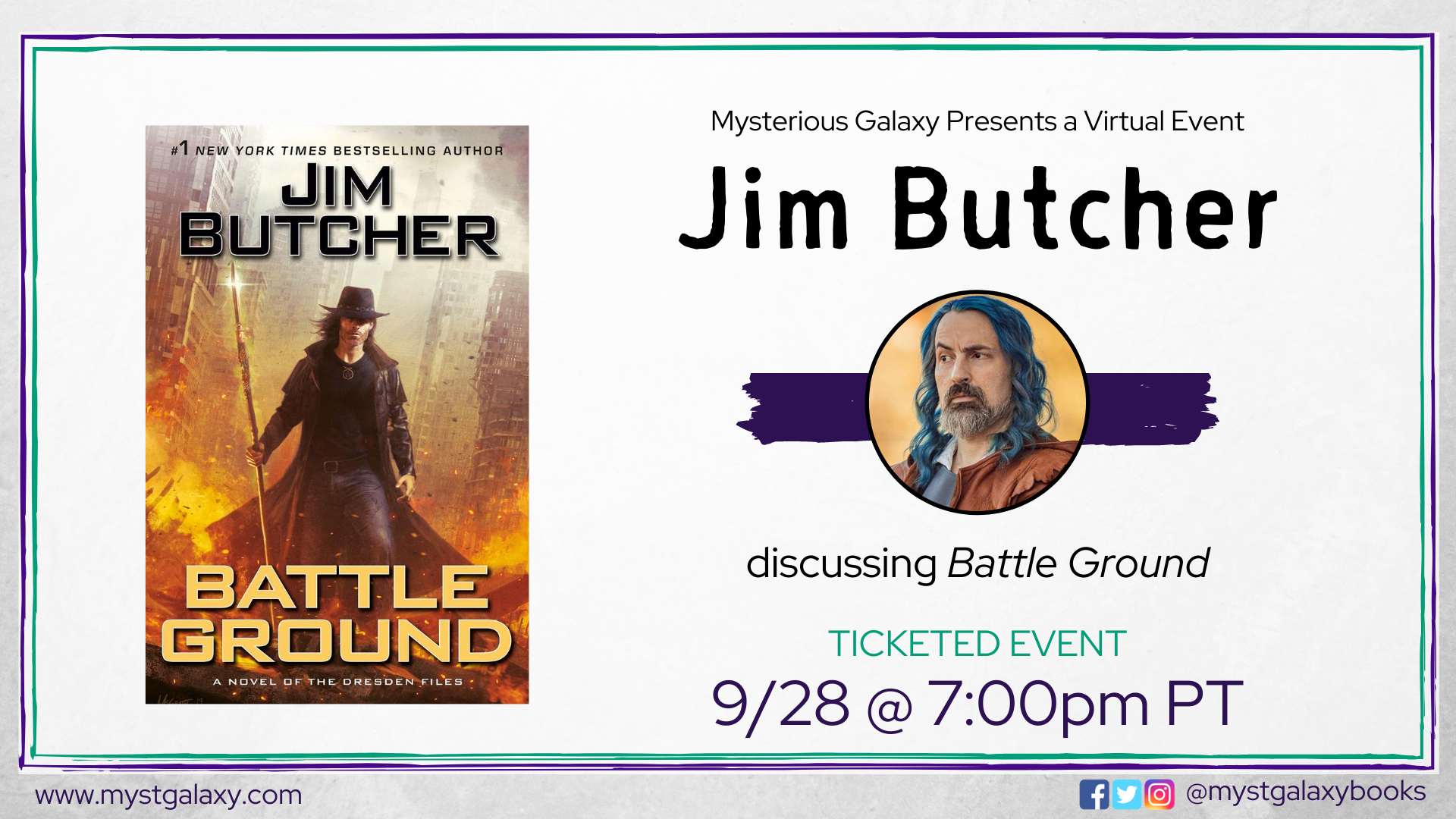 MYSTERIOUS GALAXY: 9/28, 10:00pm ET / 7:00pm PT
Virtual Q&A via Zoom, moderated by Mysterious Galaxy Events Director Constance Summar. Ticketed event: Buy 1 signed copy of Battle Ground OR a $5 ticket.
BARBARA'S BOOKSTORE CHICAGO: 9/29, 8:00pm ET / 7:00pm CT
FREE Virtual Q&A via Crowdcast, moderated by Dresden Files creative consultant and Peace Talks/Battle Ground trailer director Priscilla Spencer. Signed copies available for purchase.
BARNES & NOBLE: 9/30, 7:00pm ET / 4:00pm PT
FREE Virtual Q&A via B&N's Facebook, moderated by Jim's editor Anne Sowards. Signed copies available for purchase.
Note: Jim had a power outage that prevented him from participating in this past weekend's Muskogee MiniCon event. We're working on rescheduling that now and will announce the new date and time as soon as it's available.
---
Trailer Transcripts
Both trailers already have captions for our deaf and heard-of-hearing fans, but we now have visually descriptive transcripts for our fans in the blind community! They may also be of interest to folks who don't want to undermine their mental images of the characters with live action performers and anyone who wants one more source to mine as they hone their last-minute theories. Remember, two very significant scenes from the Peace Talks trailer haven't been seen yet…
Read: Peace Talks Trailer Transcript and Battle Ground Trailer Transcript
Haven't seen the trailers yet, or want to watch them again with the new transcript info in mind? Here are Peace Talks and Battle Ground!
---
Behind the Scenes Photos
While we're at it, enjoy a sneak peek at the making of the Battle Ground trailer! Photos by Yrene Ramirez and Priscilla Mastrodomenico.
---
And that's it for this week's entry! Visit Jim-Butcher.com every Tuesday this year for weekly Drops of never-before-seen artwork, microfiction, interviews, contests, sample chapters for Peace Talks and Battle Ground, or other tasty tidbits in our celebration of the 20th Anniversary of the Dresden Files. Join our new mailing list and follow @jimbutchernews on twitter to ensure you don't miss a moment, and check the announcement post to catch up on prior Drops.